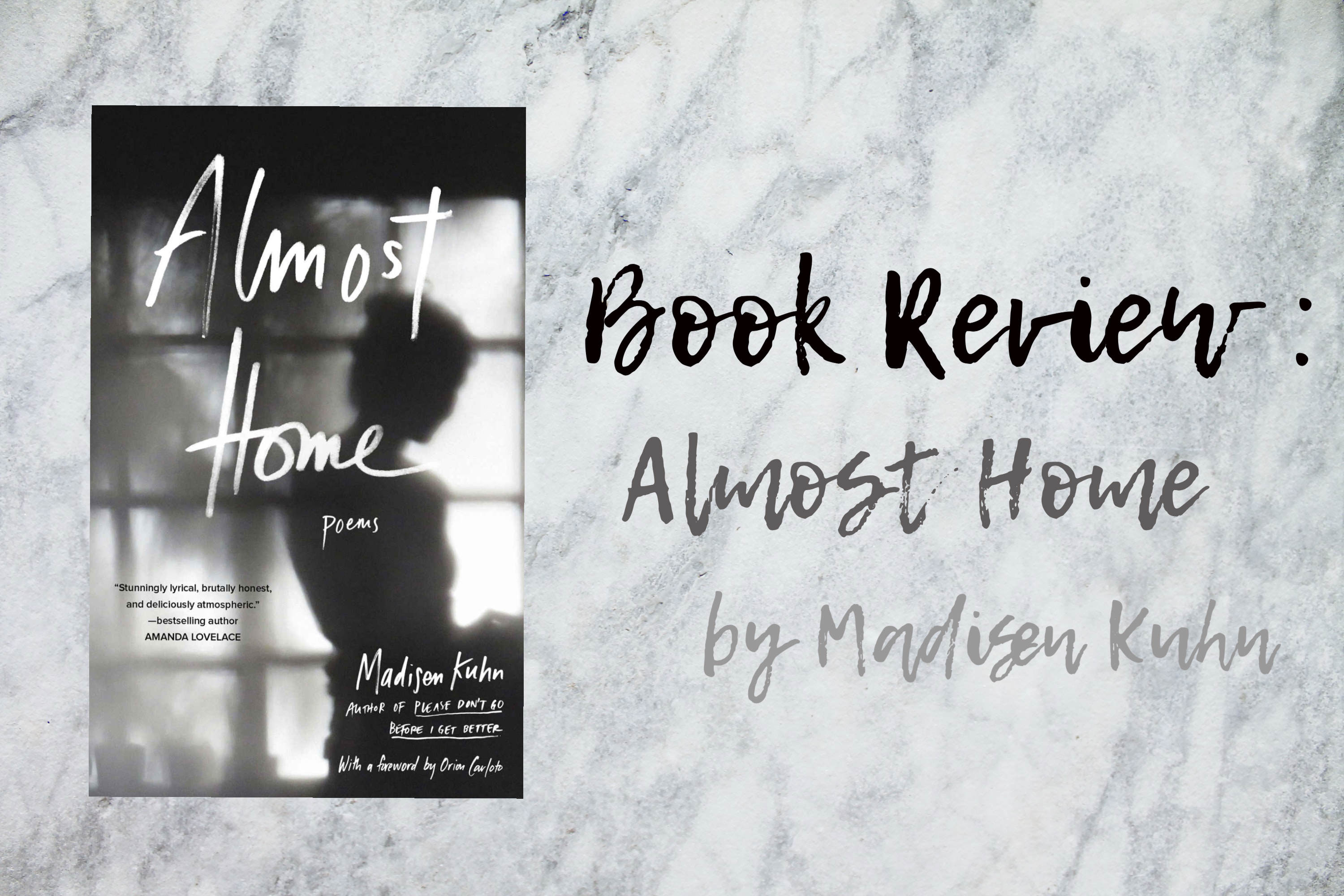 Book Review: Almost Home by Madisen Kuhn
Rating: ✩✩✩✩✩
I want to say that this book started off by hitting me right in my feelings. I have not read Madisen's previous collections but follow her on Instagram and thought she was a beautiful writer so when I saw this collection sitting on my local bookshelf, I grabbed it. To be honest, I was not expecting to relate so much to her book "Almost Home" but am thankful that I found it because it was truly a beautiful and touching read. Madisen does not play in this book; she opens up immediately with raw vulnerability in a strong and incredible piece titled "homeless." It took my breath away, seriously. Madisen is expressive in the most perfect sense of the word.
The themes throughout this book vary from abuse, abandonment, feminism, mental health, finding "normalcy" in life, love, heartbreak, and more. The way the book is laid out is gorgeous and works so well with the title Almost Home. Each chapter is a piece of home, starting with the kitchen (family and nostalgia), the bedroom (love and sexuality), the bathroom (self image and introspection), and ends with the garden (beauty and daydreams) and the front porch (hope and encouragement). I thought this was so cute and really added an extra something to the collection; it's so creative and clever.
Madisen is a very talented writer, it is clear that she is very easily able to turn her pain, joy, and other experiences into beautifully crafted poems that are both relatable and raw. She writes about anxiety in such a vivid way that I absolutely fell in love with and the amount of emotion in her pieces will make your heart fall into your stomach. I had only gotten a few pages in before my face was wet with tears. She writes about growth, about the uncertainties and what ifs of life, about her fears and feelings of unworthiness, and even her love poems are a kind of perfection; they are romantic in the realest ways and I adore that.
Each piece in this collection is incredible. Madisen is reflective, relatable, raw, and talented. Almost Home will be one of those books that never leaves my home because it is too good to let go of. (Although I do plan to send some copies off as gifts this year!) If you want to buy Madisen's book Almost Home you can click the link below! You can also find her on Instagram! This book is definitely a must read!
Thank you so much for reading and make sure to follow me on Instagram for poetry, mini blogs, frequent updates on other projects and more!
Madisen Kuhn's Books: