Book Reviews For Shelby Leigh's Poetry Collections: it starts like this and changing with the tides.
I have had Shelby's books sitting on my iPad for a while now and have been looking forward to reading both collections because I greatly enjoy her Medium account where she shares lots of helpful articles as well as her Instagram where she shares poetry, bits of her life, as well as encouraging and motivational posts. Since I had some time today and realized both of her collections are on the smaller side, I was so excited to get into them and also write these reviews! I figured I would combine them here that way you could check out my thoughts on both of the books in one place!
I started with It Stars Like This which is her first collection and I enjoyed it! It is a very sweet collection for the most part but also gracefully moves into heartbreak, loss, and moving on. I enjoyed all of the cute love poems since a lot of the books I have been reading lately have been pretty heavy. Her imagery is soft, simple and full of nature which I enjoyed as well. I particularly like her pieces about being a writer because I find them very relatable but all around I think this collection is very nice for a debut collection and the size of the collection is also great. It is a book you can pick up and finish in one sitting but always come back to if you need some beautiful love poems or are in your feelings and need some support.
I rate It starts like this 4/5 stars.
Here are a couple pieces that I truly enjoyed from It starts like this!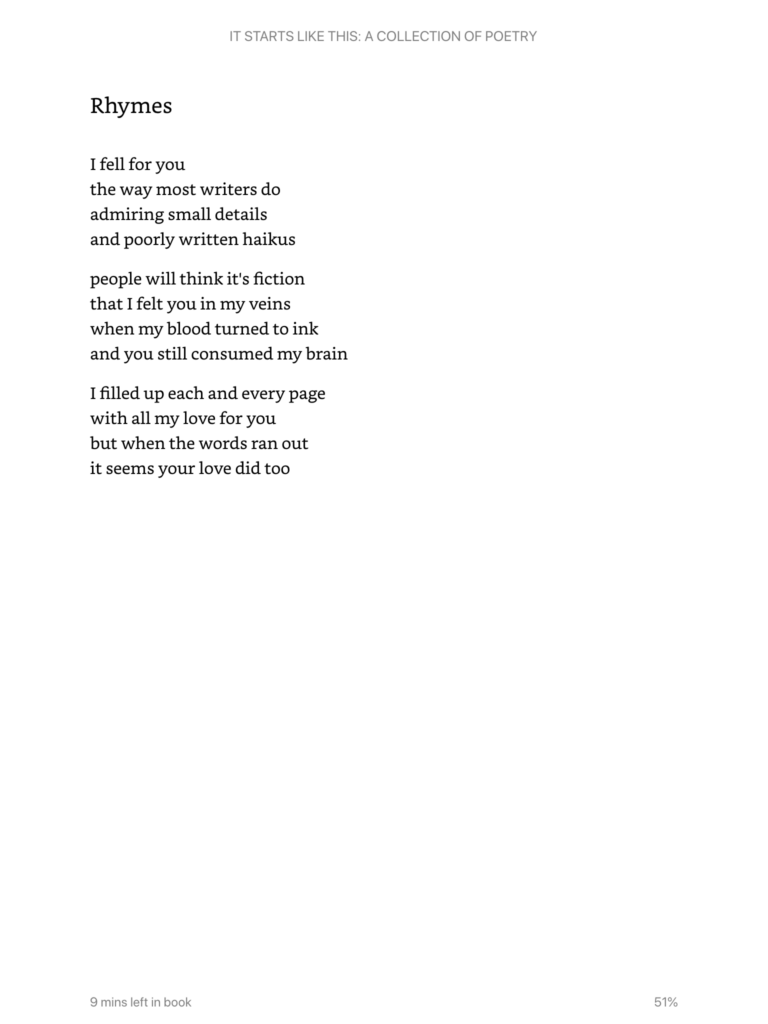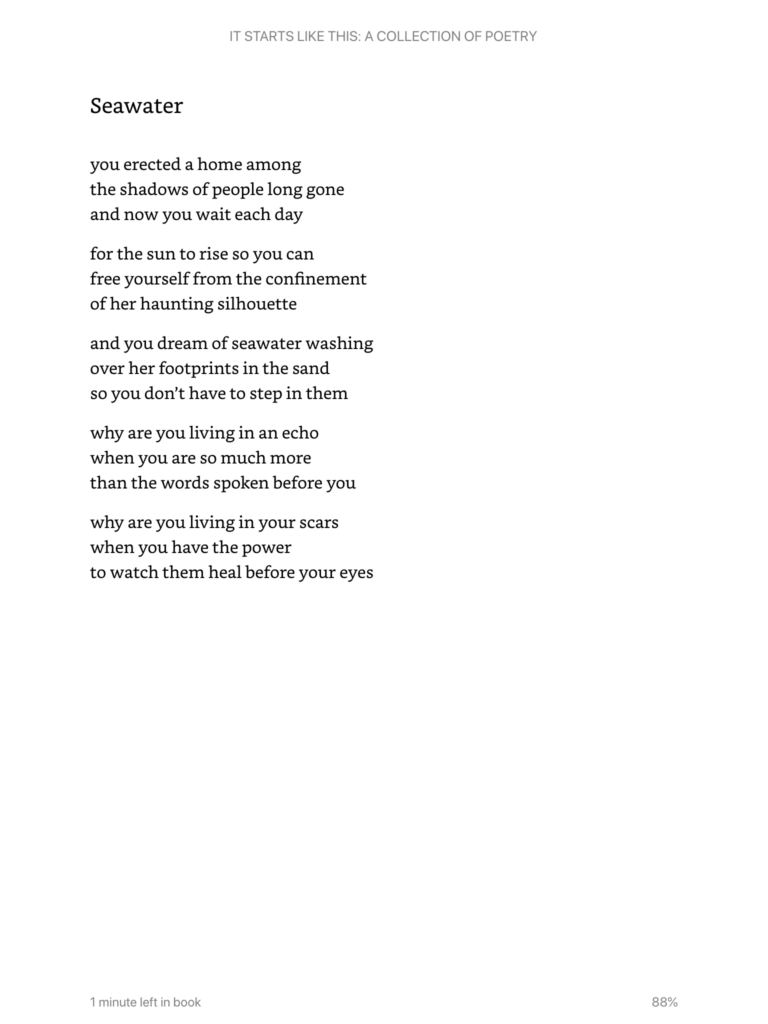 After reading It stars like this I immediately moved on to Changing with the Tides. As soon as I started reading Shelby's second collection, I saw a lot of growth and much more depth than in her first collection which is amazing! It truly shows what practice, dedication, and hard work can do for a writer.
There are more themes as well in Changing with the Tides. Whereas, It starts like this was mainly about love and heartache, this collection is full of pieces about self doubt, self love, mental health (anxiety specifically), self-empowerment, growth, and also includes a little of love and heartache. I enjoyed these additions immensely. It definitely made you feel like you were getting more of Shelby in this collection.
She included longer, more prose-style pieces which I thought were great. She also did a bunch of poems that started off in the same way; a series of "to the ones…" pieces which I thought were done very well. They were raw, beautiful, and well written. They definitely added a more personal touch to the collection.
Changing with the Tides also had a lot of the beautiful nature imagery and metaphors that It starts like this had which I enjoyed as well. I believe that this collection would be a great book to grab when you need a pick me up or are just feeling down. It is relatable, motivational, and inspiring.
I rate Changing with the Tides 5/5 stars; I was so impressed by Shelby's growth and loved the whole collection.
Here are a few pieces that I truly enjoyed from Changing with the Tides!
Be sure to go grab both of Shelby's books on Amazon! You should also follow her on Medium and Instagram. She is such a sweetheart and has a beautiful way with words! Thanks for reading and let me know down in the comments if you have read any of Shelby's work before!
Buy Shelby's Books Here!