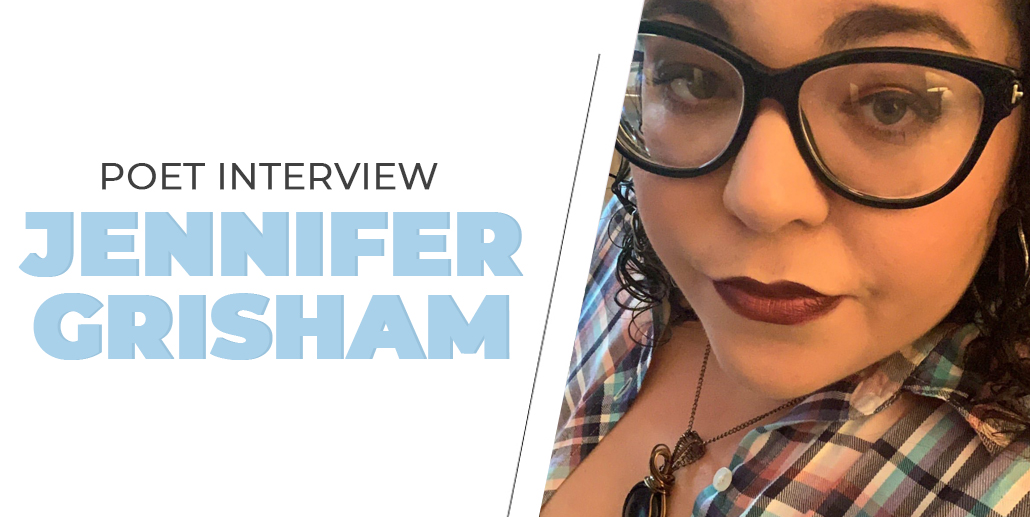 Poet Interview: Jennifer Grisham
Hey, hey, everyone!! So, I want to introduce you to a sweet friend whose poetry is pure magic; literally! She writes entrancing fantasty themed poetry that mixes in with reality as well and I am obsessed with her style! I have never read another poet like her and I think you're going to love her work so, let's jump right in and get to know all about her and read some of her poetry too!
ReBecca: Did you always want to write? If yes, when did you know?
Jennifer: Oh, yes. Ever since I was a little girl writing has been my passion. I would lock myself up in my room and write for days. I was born a giant reader, reading as early as two years old according to my mother. A little older, I would lock myself up in my room until the early hours of the morning reading every Fear Street book I could get my hands on. I kept tons of notebooks I would just craft poetry and stories whenever I got the chance. Prose was my first love, so I have been writing stories and novels since as long as I could remember. I used to take my fantasy stories into the bathtub with me when I was a little girl because I did not want to wait to write an idea out until I was finished. During my high school graduation, I submitted a collection of short stories and poetry to a prestigious Creative Writing competition. The pieces were submitted anonymously and then judged. During our ceremony, the winner of this award would be announced. I remember that I couldn't believe it when they called my name to receive the award. It was not only a tremendous honor, but an eye opening experience. I knew writing was in my blood and something I had to pursue in some way.
R: Wow!! For sure, you have something incredibly special. I love that you shared this with me!
R: What inspires you?
J: I think the easier question is "what doesn't inspire me?" Ha! Everything inspires me. Changes in season, love, friendships, emotions, things I read, experience, or dream inspire me. I think anything and everything is truly inspirational if you look at it hard enough or just allow yourself to sit and experience. Often times, when I am present in a moment silent or beautiful, I find myself inspired.
R: Yes!! I absolutely agree. Inspiration is everywhere.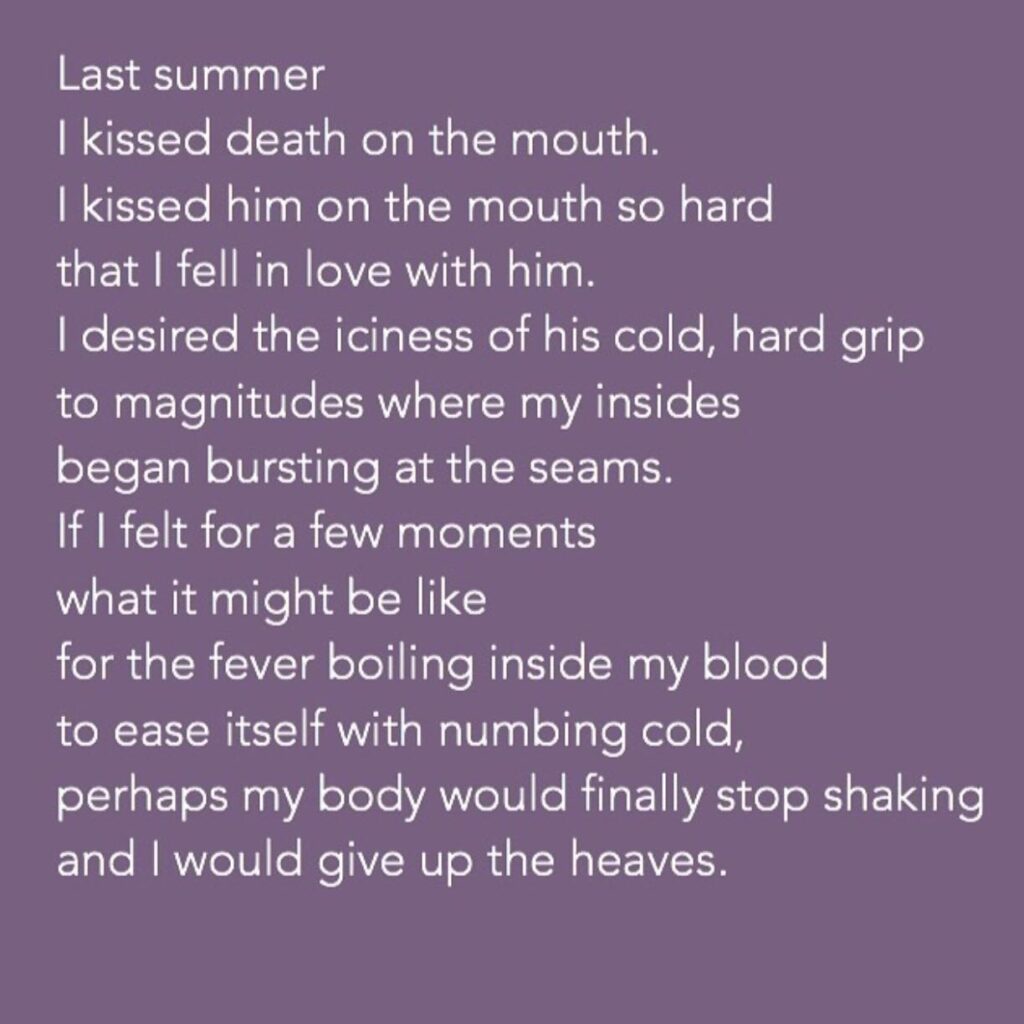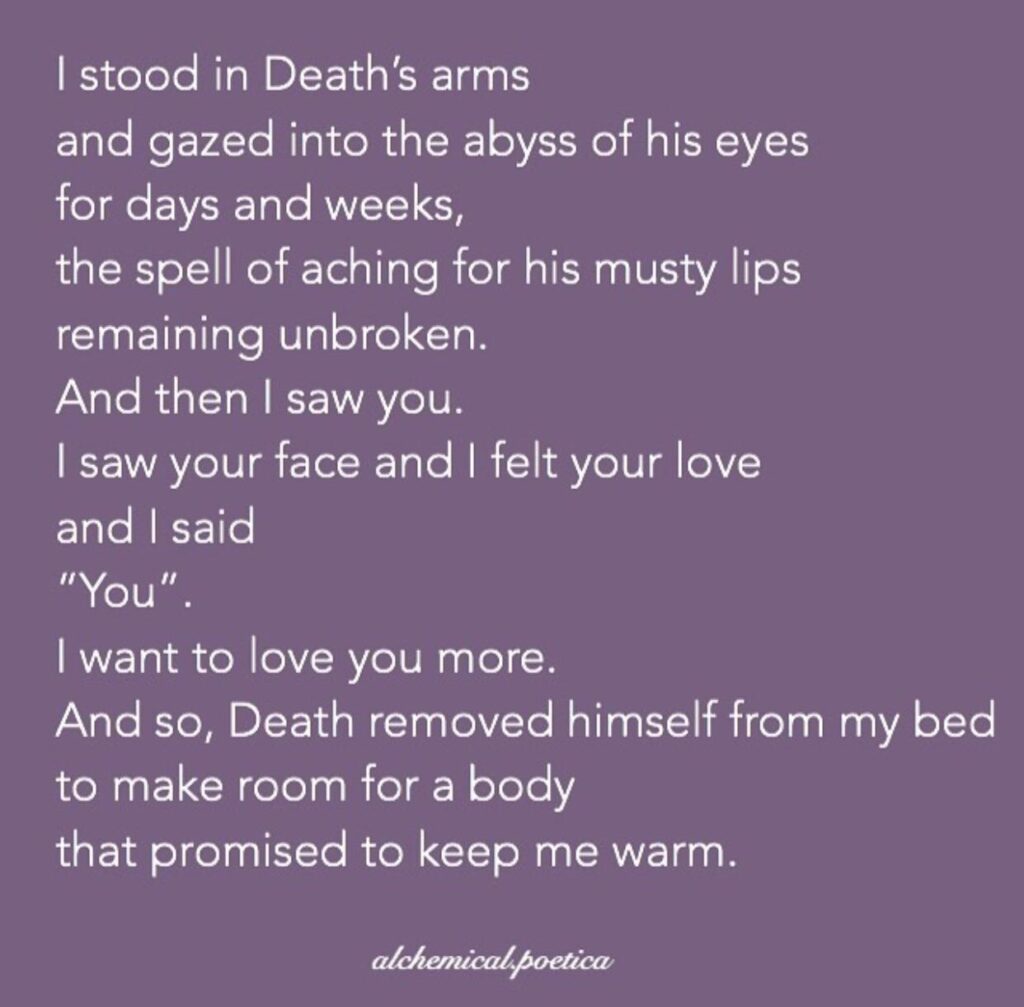 R: What are your favorite topics to write about? Why?

J:
I write about many topics. I write about personal experience and emotions because I experience those very deeply. Writing is a way for me to process so many things because it probably is honestly the only way I know how. I also write a lot about mental health and women empowerment because I feel they are two very important topics for me to explore in my work. I also enjoy writing about the magickal, fantastical, and natural worlds. Those are subjects I have felt most connected to in my life on an almost spiritual level.
R: You write a lot of fantasy/magical kind of pieces.. how did you get started in that kind of genre inside of poetry?
J: It was always there for me. I was writing fantasy before writing anything else. My earliest stories were about vampires and faeries. Magical realism is something I truly adore and when writing my poetry, it often just found a way of sneaking into my work.
R: I love that. My first stories were also about faeries and other magical creatures but I think as I grew up I lost a lot of the magic themes in my writing which is why I'm always shook by yours because they're incredible and I think something I'd like to explore again.
R: What does your creative process look like? When you're writing…Music? Silence? Night? Day?
J: There is no real process for me, I feel like. My mind runs a million miles a minute and often times inspiration just smacks me in the face. This usually happens in inconvenient places like the car when I am driving or in the middle of my day at work. I have never done well with routines when it comes to writing my own words. My brain will just craft something randomly and then my fingers need to dump it out immediately – usually in the Notes app on my phone. Sometimes I will handwrite pieces if I am in a particular mood to do so. my fingers just fly more quickly with my phone, as terrible as that sounds. I can say, however, I do need silence when I write. If I am unable to be in it, my mind will just lose the words that are coming to me.
R: Laptop, pen and paper, typewriter, phone?
J: Phone because my fingers fly quickest that way! I miss pen and paper, but my handwriting is not particularly attractive. I wish it was though!
R: I feel you! I honestly write entire blog posts on my phone sometimes because I'm comfortable! Although, I still do write by hand everyday…I also wish my handwriting was prettier! Ha!
R: What would you say is your most interesting quirk?
J: In terms of my writing, I often leave out articles on purpose. I do this for effect most of the time and am not really sure why it is I actually do it. I think I always have a particular "sound" to my writing when I am working a piece in my head and leaving out articles can sometimes help with the "sound" of my piece. In general, oh goodness. I could go on forever. I have so many quirks it is probably insane, but in a good way! I promise! One quirk I have is that my lipstick always has to be on point and some sort of unique color. I really can't tell you why, but that is the way it has to be.
Aside from that, I am an adult that absolutely loves going to Disney World to the point of obsession. Epcot's Flower and Garden Festival is the most magical thing for an adult, you have no idea. If you ask me where I want to go, if I have the chance to go somewhere, the answer is most certainly Disney. Adulting in Disney is the best thing you will ever do for
yourself, guaranteed.
However, my best friend will tell you they are that I squeak when I laugh (true and annoying) and that I deliver words in a sing-song way (also true, I am a walking Disney character I guess…). My other best friend will tell you: I love too hard (to a fault, really), I give people too many chances (unfortunately), and I don't listen to her. Haha. Although, everyone should listen to Kelly. Kelly is queen and knows best!
R: Growing up in Florida.. I cannot agree on the Disney experience. Ha! Although, I love that you love Disney. It's awesome to see adults be able to find beauty in things and if your thing is Disney, I'm for it! I have a couple friends who work at Disney!
R: Writing a book? Tell us a little about it!
J: I've written a children's novel in the past called Ashley Cabana and the World of Many Doors. This was completed years ago, and for a while, was my most favorite thing. I have not touched or done anything with it in years, but it does indeed exist. It was about a little girl who does not complete her English homework. She gets punished from class to head to the library and help out the quirky librarian for a period. Ashley falls through a tiny door between the shelves and lands in a world from a famous children's story. In short, the storybook worlds are fading because children have stopped reading. It is up to Ashley to help "fix' each story she falls into and save the world of books for a little bit longer. Aside from this, I have an idea for a collection of short stories I have been toying with for a while as well as a newer one for a novella. Emily Perkovich, has inspired me to begin writing prose again inadvertently and I was mulling an idea around in my head. It's very Nick and Norah. But we will see.
R: Wow! Sounds super interesting! I would love to see you write more prose! I think it would be amazing!
R: Okay, you have two books.. one already out and one coming out soon so here's the plug! Tell me about them and the writing experience for each of them.. were they very different? Similar? Do you love one more than the other?
J: My debut book, Whiskey Sour Love, is a beautiful love letter to lust, love, and heartbreak. Some of my best writing ended up being published in that book. The writing process for that book was very deeply romantic and personal. I actually think that this was the one time I listened to a lot of music while crafting the book. I almost actually gave up on publishing it, but was pushed into doing so and am glad I did. It has a special place in my heart.
My newest book, Equinox Ascending, releases on Halloween! In only a few days! This book is very different from my first for a variety of reasons. This upcoming collection is a whopping 207 pages of both poetry, prose, and illustrations. I worked with Val Bernardino, who illustrates my poetry, and her artwork truly brings these pieces to life. This book is more of a love letter to myself. It is magical and fantastical. It truly is an experience that is transformative and focuses on the finding of one's own power. I love both books, but this one is pure magic and therefore my favorite. It really is an experience and a journey. I hope you all read it and love it.
R: I am so excited! I am hoping to order both of your books so my MIL can bring them to me next month when she visits! This made me even more excited! Congrats!!
R: How have your personal experiences shaped your poetry?
J: They always do. All of my poetry, for the most part, is based on personal experience. If they were not, I would be unable to process how I feel about things that have affected me deeply within my life.
R: What does writing bring to you? An escape? Healing? A sense of joy and happiness?
J: All of the above depending on the moment I am writing in. Sometimes writing helps me get lost in my head whenever I might need it, other times writing helps me heal from things I have trouble processing otherwise. And there are also times writing brings me great joy, especially when it is about or inspired someone I care for. All of the above, really!
R: What are some of your passions outside of writing/poetry?
J: I have so many. Did I mention going to Disney? Haha. I also love the theatre. Acting was one of my first loves so I really enjoy seeing as much live theatre as possible. NYC is a wonderful place for that. I am also obsessed with live music and concerts. I also enjoy cooking and baking, especially for others. I am very interested in celebrating Halloween and all things spooky all day, every day. I'm also passionate about seeing films and drinking coffee and (good) red wine. Once my foot recovers from it's fracture, I am sure I will take up running and dancing again. If you ever need a wedding date, I'm your girl. I just enjoy laughing and having fun, especially with my closest friends.
R: I love this! We have to see a broadway show together! I also can't wait for us to sit down and drink coffee together once I'm back in NYC!
R: Any tips for new writers?
J: Don't stop writing. Ever. Even if you want to or it all feels futile, push yourself to keep writing. It is the best thing you can do for yourself and the most important advice I could ever give.
R: What you think about the Instagram Writing/Poetry community? How did you get started on Instagram?
J: The Instagram poetry/writing community has some beautiful aspects to it. It's a space where you can put yourself out into the world and share words with like-minded individuals. It's a place that fosters and shares creativity and celebrates the words of others, something I find so important. Sometimes all the emotional energy of others can be overwhelming so it is important to take breaks and generate a safe space for yourself. Aside from that, the community is an overall positive place to be. I got started last January by deciding to just create an account, post my work, and see what would happen. Soon enough, I was picked up as a live host on one of the platforms and began to generate a following and make some true, life-long friends. It was beautifully unexpected, really. I've been there ever since.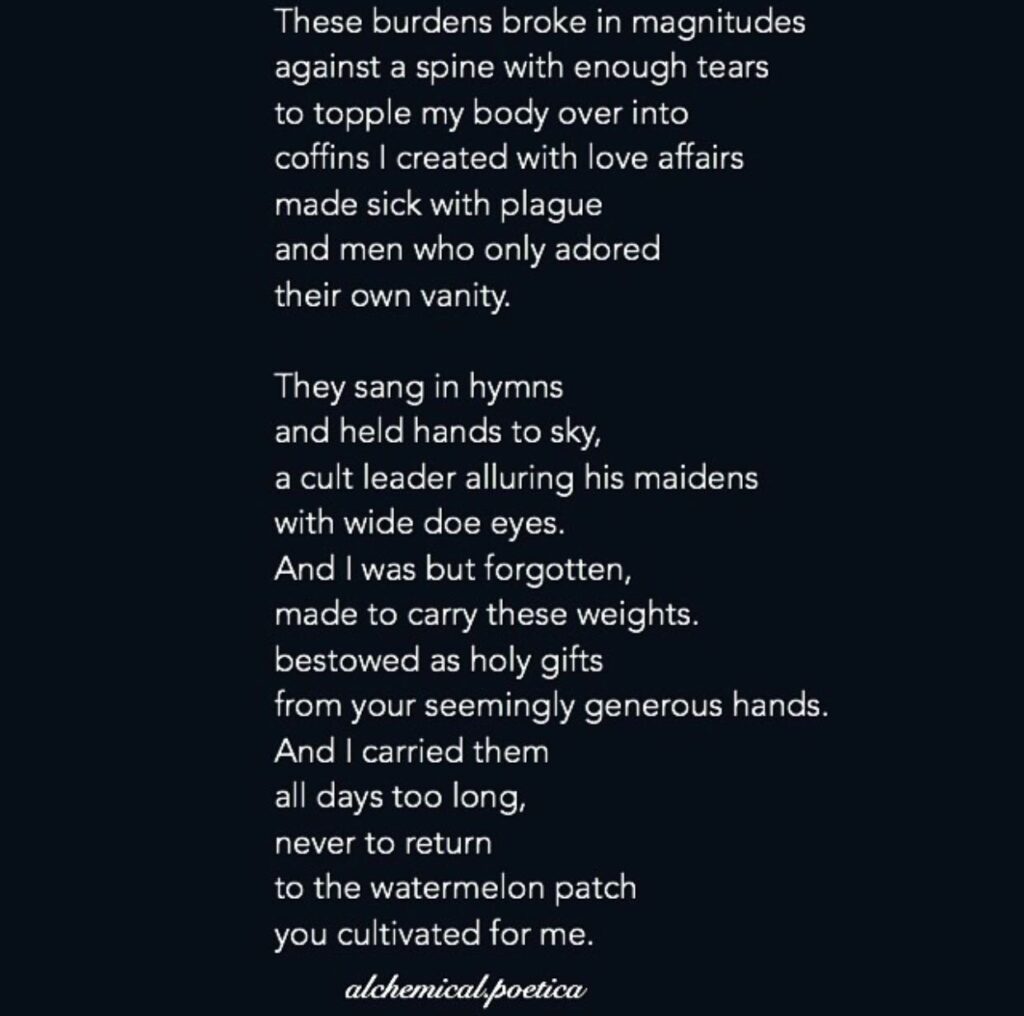 R: Do you believe in writer's block? – If yes, what would you say is the best way to work through writer's block?
J: I don't know that I believe in block. I just believe that sometimes words don't come. Sometimes those expansions of time can get longer than others. Usually, I just wait until I really feel something in my bones to release. They will come again, when you are ready.
R: Favorite book?
J: It is a tie between Coraline by Neil Gaiman and The Night Circus by Erin Morgenstern. I love them both equally. Full of magic.
R: Favorite author?
J: Neil Gaiman. He is a literary and fantasy god. There is no argument.
R: A book that made you cry?
J: Most books make me cry, honestly. I remember being greatly affected by Prozac Nation when I read that, for deeply personal reasons.
R: What is your mission?
J: My mission is for my words to connect with other people. To create shared experience that can prove to one another that we are not alone. Creating shared words, emotions, an experiences fosters both a fuller life and healing. I wish to make others feel, ultimately, and to feel heard.
R: If you could choose one piece of your writing that is your favorite, what piece would it be? Why?
J: Oh, I don't know. There are a lot of pieces I love for deeply personal reasons. A lot of my favorite pieces end up being about/inspired by my best friend, Kevin. Spiderwebs, Firekeeper, Carved Up Love, and any of my pieces that reference the movie Labyrinth. He is an important person in my life and some of my favorite pieces were written for and about him. These pieces can be found both in Equinox Ascending and my Instagram page.
R: You're a teacher and I know that life is crazy busy.. how do you find time to write? Also, would you call writing a hobby right now? Or is it something you'd like to do more with, i.e. career shift?
J: In life's pauses is when I end up writing. I also end up writing late at night when all is quiet. I used to think of writing as a hobby, but now, I see it as something I love and continue to do and am passionate about enough to make time for. Eventually, I would love to make it a career shift but now is not the time for me to do so yet. I've thought about going back to school for my MFA, but again, we will see.
R: I would also love to go back for by MFA. I would love to go to Sarah Lawrence…
R: Of course, because you're a fellow New Yorker, I have to ask.. what is your favorite place to draw inspiration from in the "big city?" I, personally, have a sweet spot for Union Square, haha!
J: Union Square it is! It's just so cool and hip and still a little bit grunge.
R: Yes!! I agree!
R: Who are some of your favorite Instagrammers? Poets/writers/artists, I wanna know!

J: I love so many people. Truly, I love so many people and I could write a novel about them all, but here they are: Kelly Pitt, Kevin C, Sage, MK McWilliams, Kendra Piper, Emily Perkovich, Niels Schoenmaker, Madison Wells, JonPaul, Casey, and Steven Turrill.
R: All of these writers are incredible! Great choices!
Thank you so much Jennifer for working with me on this article and sharing so much of yourself with me and anyone who reads! I'm truly excited for your upcoming book and can't wait to add it to my collection!
You can find Jennifer on Instagram at here, as well as, on this blog! You can purchase her book on amazon by clicking here (be sure to do that! You won't regret it!) and also be on the lookout for her work in Pussy Magic's All Hallow's Eve 2019 issue which is now out!