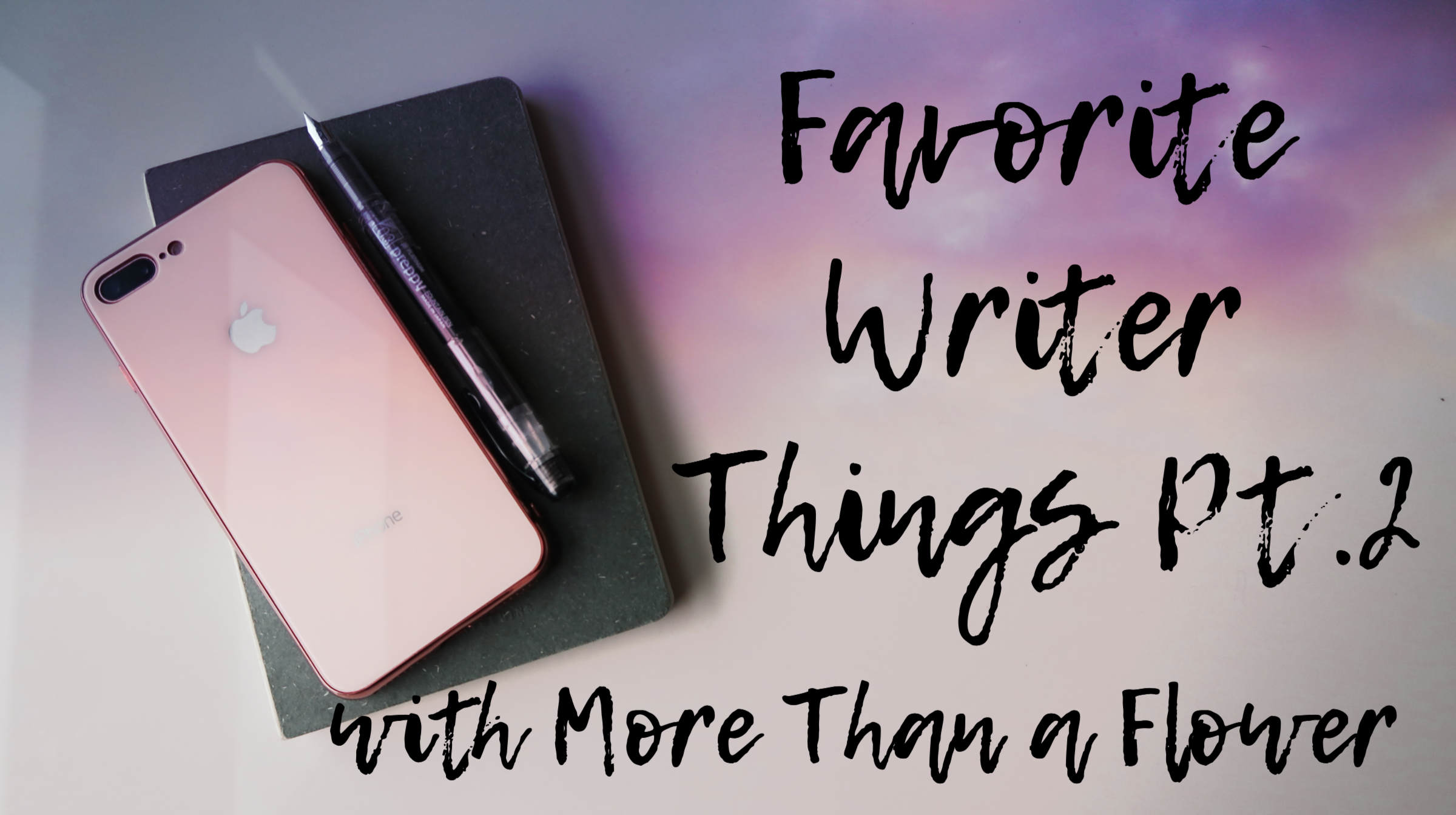 Favorite Writer Things Pt. 2 With More Than a Flower
So, last week I shared a bunch of my favorite apps but now I want to share some other things

 

that help me in my creative process!
Coffee. I cannot deny my coffee addiction is pretty hard core. I need it. It doesn't really matter what kind of coffee it is (although I will say I'm not a fan of Dunkin' Donuts…) as long as I have some kind of alternative milk because I'm vegan! My favorite coffee is from Starbucks. I love a good venti soy caramel latte (hot) and all the Starbucks baristas in my area know me well. Besides the coffee, Starbucks is just a great place to sit down and write. The space is comfy, has plenty of outlets for plugging in, and whenever you need a pick me up, the coffee is there. Coffee has inspired me to write plenty of poetry so we will always be friends.
View this post on Instagram
My iPhone 7+, Macbook Pro (2015 retina), and iPad (9.7 inches, 6th gen). These are just all lumped together because yeah. I couldn't live without these three things. My iPhone being the most used device for all of my writing; most of my poetry, mantras, quotes, ideas, etc are written on my phone. I have also written blog posts on my phone although, I prefer to use my Macbook Pro for longer writing projects! My iPad is great for reading, drawing, and also writing when I know I have a super busy day and don't want the weight of my laptop. I have a bluetooth keyboard that hooks right up to it so it makes for convenient writing anytime!
Headphones. My sweet husband gifted me the pure joy of these headphones which provide silence. Although they are not sound proof they definitely do a great job keeping the noise out (noise cancelling.) They are one of my absolute favorite things. I never leave the house without them. A most for when you just need to focus. The battery life is insane which I love because I'm awful at charging things. Also, they're wireless which is just amazing.
Camera!

G7X Mark II

+ a good selfie stick & stand. Not every writer might like this but I do for a couple reasons… It's great for taking high quality pictures of books for book reviews. I love a great photo. It brings warm and fuzzy feelings to my heart. It's also great for YouTube videos! I use it for all my spoken word videos that I post to YouTube and have also used it for vlogging, etc. As well as taking pictures of artsy poems that you've handwritten and decorated or even photos in general to use as covers for your poems! I've had mine for a couple years already and it's still one of my favorite purchases, ever. Click to the right (below) and you can see a photo I took with this camera!
View this post on Instagram
Notebooks – all of the notebooks. I don't think I need to go any further with this… I know most writers are notebook/journal hoarders.. so yeah. You feel me, right? I'm not loyal to any one brand of notebook because… notebooks. Gotta try em' all!
A planner. I'm currently using a

Victoria's Journal Planner

in the color lilac which I bought from National Bookstore. I like it because it has an undated monthly planner in the front and then tons of journal pages. So, I tend to write down my to-do lists and then use the monthly planner to write down what I actually did each day. This works well for me and helps me stay on track with all my projects as well as using something like Taskade, which I already talked about. I'm not super loyal to any planner either though, I prefer Erin Condren planners or Happy planners but they're so hard to get ahold of here in PH so, whatever I can get my hands on for now that works is a winner for me!
Sticky notes. These are a must for me; I need to be able to jot down thoughts and notes and stick them in the book I'm reading, especially if I'm reviewing it. It helps me keep track of everything I'm feeling in the moment so that I can share exactly what I thought throughout the book. I also homeschool my kids so sticky notes are just everywhere in my house; my 12 year old always needs reminders, haha!
Highlighters. I don't use these A LOT but I do use them and my favorite ones right now are the pastel collection from

Faber Castell

! They're super pretty and not too "inky."
Book light. I just bought a book light for the first time in a long time because I've been reading more paperback books (for book review purposes, etc) and it's definitely handy. Especially for me since, I live in Metro Manila and the traffic here is awful. So whenever I'm sitting in traffic and have a book to read, the book light is super handy. I own

this one

which has LED lights and three different brightness settings!
Kindle unlimited. Who doesn't want tons of books for free at their fingertips? You just pay a small subscription fee and boom. Tons of poetry books! As well as any other genre you might like to check out and get lost in. I especially love this because it was a gift, so I don't pay for it myself and also, there aren't really any public libraries here in the Philippines so when I don't wanna splurge on a new book, I can easily find something awesome through kindle unlimited for free.
Audible. Awesome for when you want to read, need inspiration, have a book that is calling your name but don't have a lot of time to just sit down and read. I can listen to books while cleaning my house, running errands, sitting in traffic, or whatever. I love it!
Bookstore membership cards (seriously! the savings!) If you buy a lot of books, these are handy! I have a Fully Booked card which saves me anywhere from 5% – 15% on books, a National Bookstore card which accumulates points that you can then use as money off your book purchases, and when I was in the states, I had a membership at Barnes and Noble because who doesn't love to buy books from Barnes and Noble in Union Square.. I miss you, immensely. Anything that helps us book hoarders save money is a win.
Typewriter. Again, my husband bought this for me as a gift and it made me cry. I never knew I needed it until I had it. There is something so special about a typewriter and some of my favorite pieces have been written with mine. Mine is not shiny or new looking, it is old, rusted, and very used but I adore it so much; the character it holds brings so much more magic to my life.
View this post on Instagram
View this post on Instagram
Watercolors. Sometimes we need a break from creating things with words. I love watercolors because I'm not good at painting. They challenge me but also give me a way to be creative without using too much brain power; it's like the same kind of escape that reading gives me. Plus, sometimes they turn out pretty nice and then I can pair it with a poem! I use these two watercolor sets…

Koi water colors

and

Misulove

.
View this post on Instagram
Yoga mat. Meditating and yoga are just a necessity…. Writer's need a break. We need to step away. We need to chill out, we need exercise that isn't pacing back and forth trying to figure out why a sentence sounds funny. Also, meditating is a great way to dig deep and find words and ideas for poetry, etc. We can always find inspiration in the quiet, in our breath, in our deepest feelings!
That's probably not everything but it's everything that I really truly love and use. I hope that you guys found this blog post entertaining and helpful; maybe you will find a new favorite thing through this blog! If you do, please let me know! I would love to hear about it!
Anything I left out that is a favorite "writer thing" for you? Share it with me! Maybe I might be missing out on something amazing!
Happy Sunday and I hope you have an amazing upcoming week!