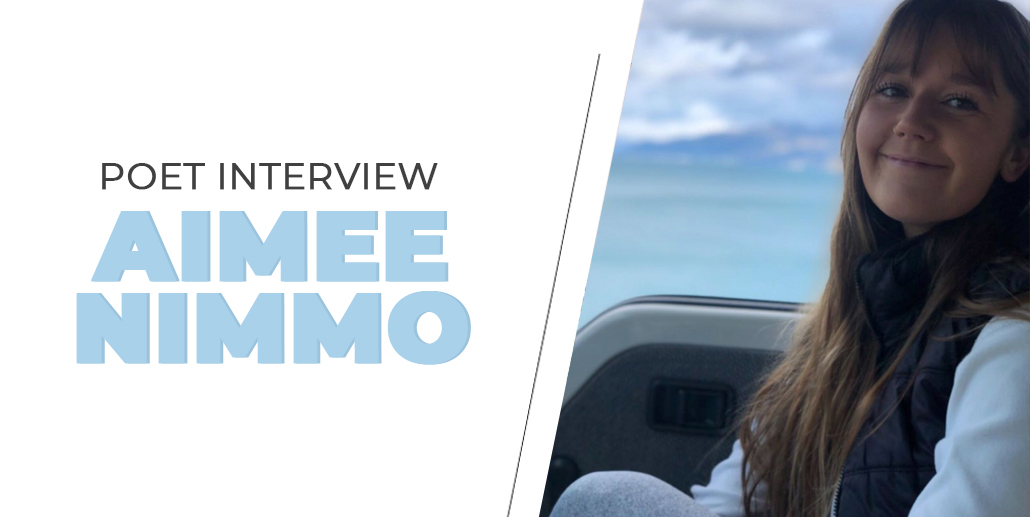 Poet Interview: Aimee Nimmo
I stumbled upon this incredible Instagram profile and was drawn in by it's gorgeous aesthetic. The Dancing Wallflower's page is full of incredible colors; peach, white, browns and then also shares some stunning photographs that fit right into her beautifully colored theme.. It has a cozy welcoming vibe that I just adore! Once I started reading I had become infatuated; spending at least 30 minutes just reading and scrolling. This talented poet shares empowering, dreamy, feel good pieces as well as love poetry, and more. Continue reading below and get to know her!
ReBecca: Did you always want to write? If yes, when did you know?
Aimee: I think I always somewhat knew. I remember in primary school when I was about 10 years old I was working on a short story novel in my class. I'd get my work done as fast as I could so I could work on it in my free time and during my writing time. I can't remember if I ever finished it. Being a writer seemed impossible to me. In high school English was quite literally my worst subject and I failed it many times, otherwise only scrapping the bottom of the barrel to pass. So 'on paper' I am illiterate and don't know the first thing about the fancy words and terminology of English and Literature and what it all means. But I've been blessed with a grace for creating words that seem to come to life in peoples minds.
R:What inspires you?
A: I've gone through a few hardships in my life. With my Mum dying and my family falling apart I went to seek refuge in an abusive relationship, alcohol, partying and complete denial that anything was wrong with me.I suffered from severe depression and life became something I contemplated the worth of. Since, I've put my faith in God and have been set free from a lot of the brokenness that had consumed my life. I've established the beautiful ability to see beyond the darkness that surrounds people in circumstances and see a perspective that offers hope for a future that's painted in the colours of hope and purpose. It's our hardships in life that define us in the future, and if 1 person can grasp that reality from my writing, then my work is done.
R: I'm so sorry for your loss and for your struggles. I'm so glad to see that you've come out of all of that alright! Creating is truly healing and I love how you answered this question. It gave me goosebumps, honestly.
R: What is "The Dancing Wallflower" to you? What is the meaning behind it?
A: The Dancing Wallflower is essentially me and a snippet of my journey in life. A wallflower describes an introvert who tends to socialize alone and stay away from the crowds, who says no when someone asks them to dance. The 'dancing wallflower' is the person described above who has chosen to break out of the confines of a 'wallflower' and dance with the man who asked for her hand. I guess it kind of reflects the way my husband has brought me out of myself and now I'm a wallflower who likes to dance.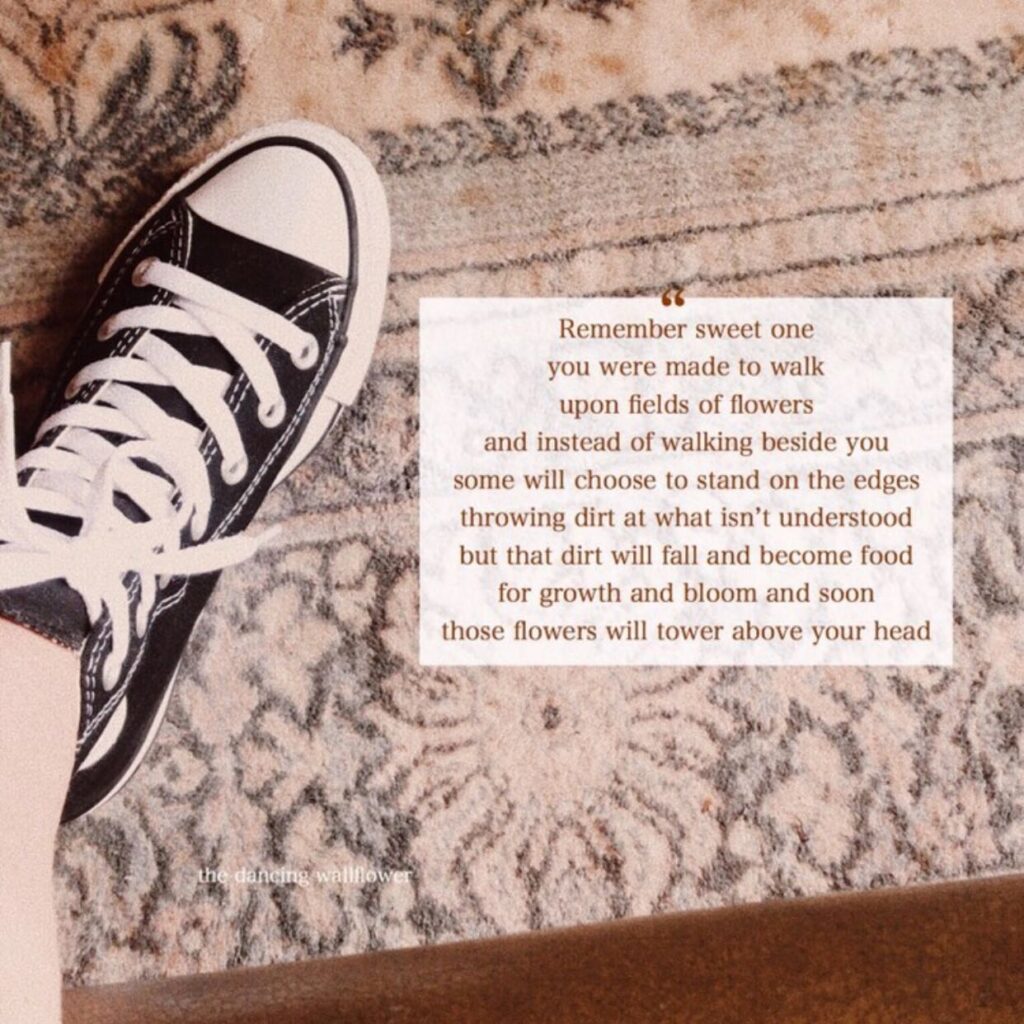 R: You were using it as a pen-name of sorts, right? Are you still using it to stay anonymous or have you decided to just keep it as a handle and use your given name as well?
A: I did originally use it as a way to be anonymous, but now I'm open about who I am. I don't publicize who I am or anything, but I don't mind people knowing me. I do a "This is Me" post each time I hit my next thousand followers, so there'll be one soon. So the answer is no, I'm not anonymous any longer.
R: That's awesome! It can be difficult to decide whether or not to use your given name! I love that you have been able to embrace being yourself.
R: What does your creative process look like? When you're writing…Music? Silence? Night? Day?
A: My creative process looks a little like, coffee and cafes. There is something about being still and present in an environment with people going by their day to day.
R: Yes! I agree. I love to write at coffee shops. There is just a vibe that is truly incredible.
R: Laptop, pen and paper, typewriter, phone?
A: I tend to use my phone mostly, as it's handy to have on my and you never know where inspiration may strike! But when I'm being intentional about my creative time, I'll have my phone, laptop and notebook. I'll never give up the beauty that is pen to paper, creative scribbles on lined pages.
R: What would you say is your most interesting quirk?
A: I LOVE pumpkin. I will literally eat bowls of it boiled. In fact, in high school I used to come home from school and boil a huge pot of pumpkin and eat it most days.I still do this at 25.
R: Wow! I've never heard of anyone eating boiled pumpkin! I love pumpkin though, so I'm sure it's tasty!
R: Writing a book? Tell us a little about it!- If no, do you think you will?
A: I'm not currently writing a book, no, but I do have plans to. My goal with my Instagram page is to have enough content to create a poetry/prose book and have it published. Then someday in the future I'd love to author a novel based on the events of my life.
R: That sounds incredible!
R: Any tips for new writers?
A: Just write what you are passionate about. Don't try and be someone else or be swayed by popular opinion. Stay true to who you are and what you believe and people will love it. Authenticity is something this world fights against, so be authentic with what you wright. Be true and be you.
R: What you think about the Instagram Writing/Poetry community? How did you get started on Instagram?
A: I have personally been blown away by the community of writers on Instagram. It's been such an encouraging network to be involved in. I think as writers we understand the vulnerability we each have to embrace to be effective in what we present people with, so naturally we can truly grasp what it takes to write a piece of poetry/prose. Encouraging seems to come natural as we all tend to understand the mental challenges it takes to create a piece. I started my Instagram page purely as a space to keep my minds thoughts accessible. It didn't take long to develop into a passion and something people really took to. So I ran with it, and now I'm finding my page growing and my writing becoming more and more a part of who I am.
R: This is so beautiful. I'm so happy for you and that you've been able to find a home inside the writing community. It's such an amazing thing!
R: Have you learned anything about writing/poetry since joining Instagram?
A: As stated above, I've learned the vulnerability that comes with it and with that, an appreciation for other peoples work has developed.I've learnt to be free in what I write and not to worry about other peoples thoughts and opinions.
R: Are there any Instagram poets that have inspired some of your pieces or even your writing style?
A: One of my favourite Instagram writers/poets is Tess Guinery, author of The Apricot Memoirs. I get a lot of inspiration from her work and I love how she captures the beauty of the world and everything within it. It's easy to get caught up in the negative, but to be able to look at the world for all it's beauty despite its flaws – that's a true blessing.
R: What would you say is your "thing?" Tell me what you're passionate about?
A: I would say my "thing" would lean toward positive empowerment. My writing is my journey in words over the past year. I write mostly to reflect where I am in life and the quiet revelations I've journeyed through that have helped me get through things. I write to encourage and empower others to see through the darkness, the confusion and the chaos and to focus on the beautiful landscape that's being established beyond it.
R: What are some of your passions outside of writing/poetry?
A: I love adventures, whether that be going for walks in the bush or mountains, road trips around the country, café hopping around the city, karaoke nights, picnics on the beach or anything in between. I'm passionate about people. I love a good catch up with friends and I also really love being able to help others when they're stuck in life. I'm quite an empathic person, so if there is something I can do to help someone, I'll do it. I'm also passionate about clothes. I'm a thrifter and I thrive off of creating outfits and finding one off items in thrift stores. I also sell vintage thrifted finds but I am currently taking a break from this as I pursue my writing.
R: These are wonderful passions. I love them! I wish I could care more about clothes though; I find putting outfits together very difficult… haha!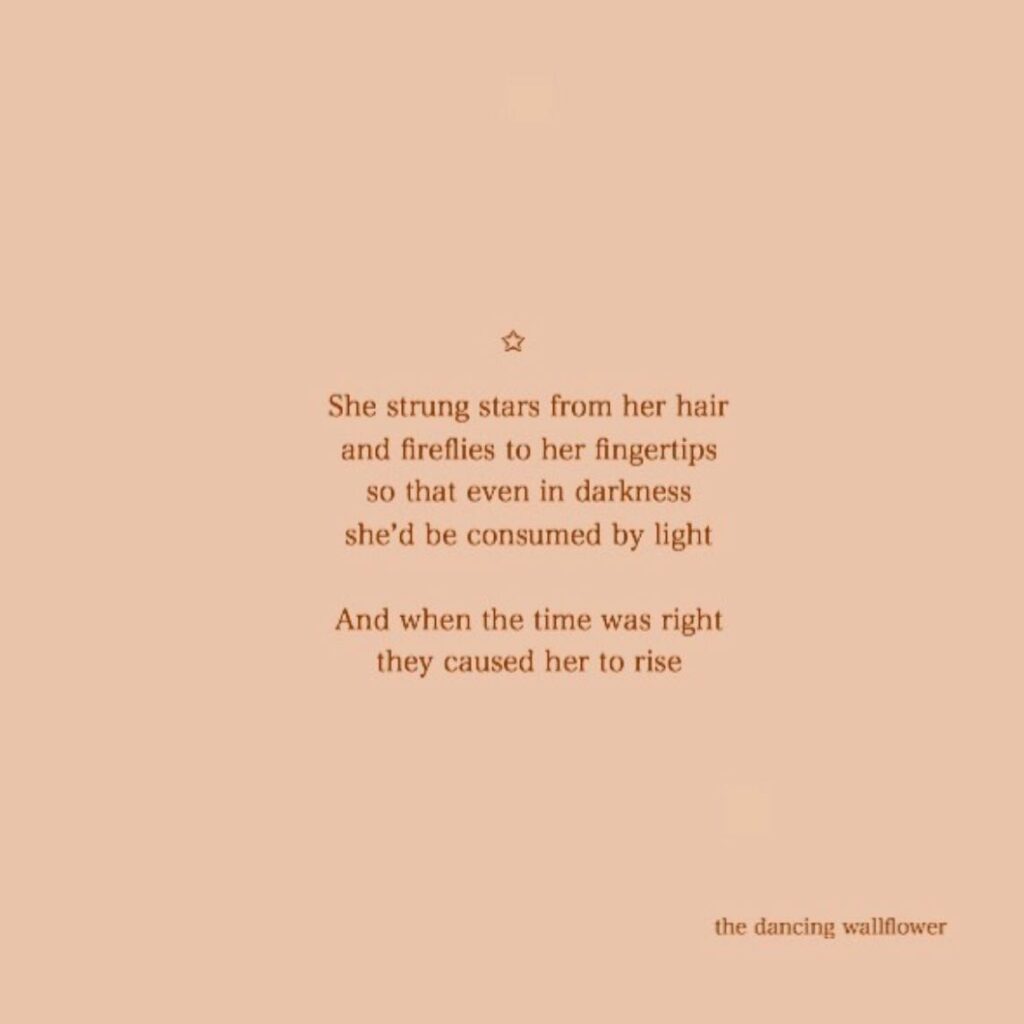 R: Do you believe in writer's block? – If yes, what would you say is the best way to work through writer's block?
A: I totally believe in it as I've been stuck in it many times! The one thing I do in those times is allow myself the time I need to refresh my creativity. Sometimes that looks like me taking a week or 2 off from creative output and indulging in things that fill me up creatively and allowing myself to be replenished.
R: Favorite book?
A: I don't actually have a favourite book. It may come as a surprise but I really enjoy a good murder mystery or psychological thriller! I also enjoy true stories, recounts of peoples lives and the hardships they've been through to get to where they are now.
R: That does surprise me!
R: Favorite author?
A: Similar to above, I don't really have a favourite author either.
R: A book that made you cry?
A: I recently read a book called "I Would Die For You," written by a boy's parents. It recounts the events of his life filled with passion, service and faith, even while battling an infection from a missions trip to Peru that eventually took his life. It was truly gripping and extremely beautiful as even in his sickness he remained so humble, selfless and joyful as his faith radiated from him.
R: Oh wow, it sounds like a tear jerker for sure!
R: What is your mission?
A: To say it simply, my mission is to be able to add a little light and splashes of colour to peoples world that are otherwise painted in darkness.
Thank you so much, Aimee! These interviews that I've been doing have been some of my favorite things to work on; getting to know you a bit was so enjoyable and I can't wait to see what the future holds for you and your beautiful words. You can find Aimee on Instagram @thedancingwallflower. She was also published in Adorn Zine.