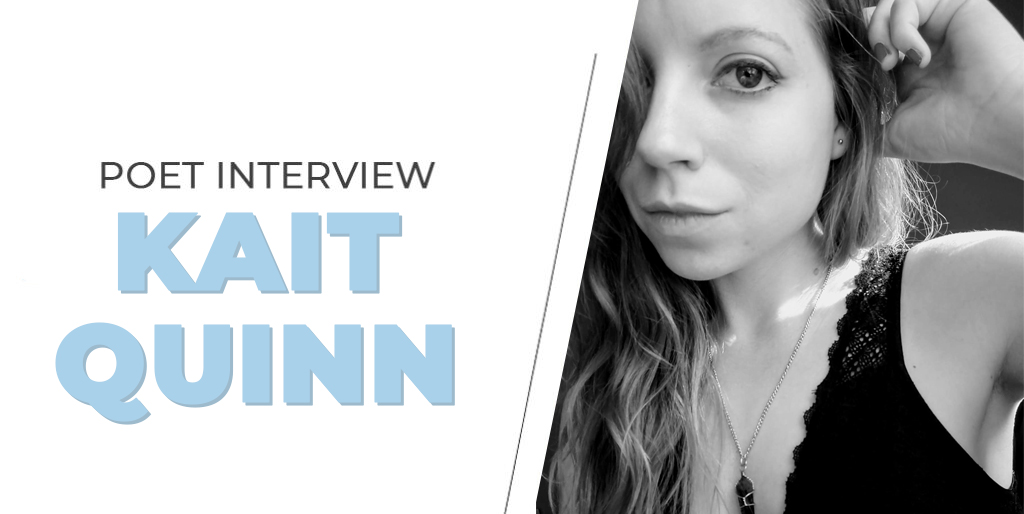 Poet Interview: Kait Quinn
I'm back with another fantastic writer! I am amazed by the talented that exists solely on Instagram. It's insane! This amazing poet won my last poetry challenge with this incredible piece right here. Since we have just recently started to get to know each other, I was pretty excited to do this interview and get to know Kait Quinn better; she didn't disappoint! Continue reading to get to know this sweet soul!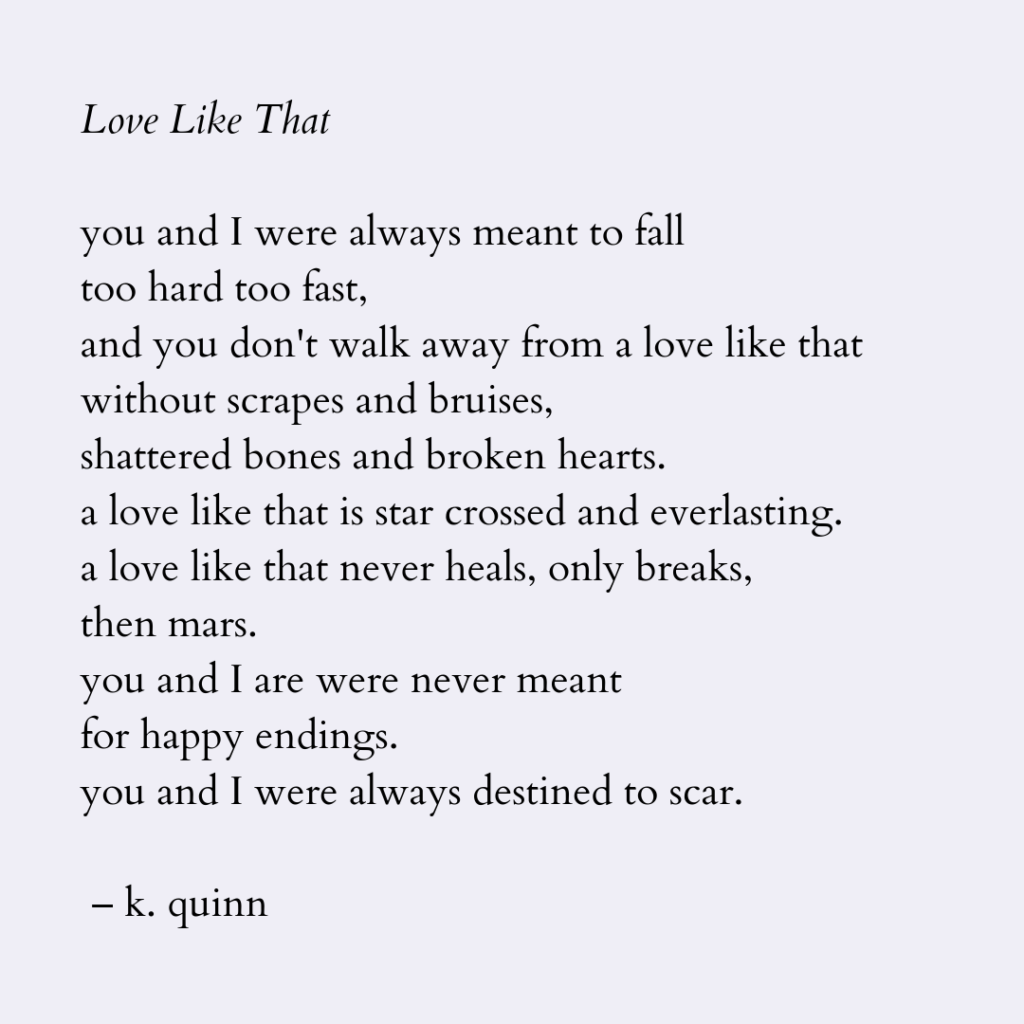 ReBecca: Did you always want to write?  – If yes, when did you know?
Kait: Yes! I knew that I wanted to write during sophomore year of high school, when I took my first creative writing class. Through that class alone, I realized that writing was a way to express what I couldn't vocalize. Then when English teachers started giving me high praise on my essays, I knew that writing wasn't just a hobby but something I was good at. Studying creative writing in college really solidified my passion for writing and made me realize I could potentially have a career in writing.
R: That's incredible. I felt the same way studying creative writing in college; it made me want to be writing forever, all the time, literally.
R: What inspires you?
K: Music, life experiences, nature, emotions, poetry. 
R: What are your favorite topics to write about?
K: Lately, I love writing about mental health and healing. It helps me process emotions, anxiety, depression, and trauma and also helps me relate to others in a way that makes me feel less alone. As a hopeless romantic, I also love a good starry-eyed love poem and a powerful, gut-gnawing heartbreak poem.
R: You have in your bio that you are a romantic…I love that! You have a lot of amazing, love poetry on your page…what would you say makes you a romantic in particular?
K: As someone who is creative, day dream-ish, sensitive, leads with emotions, and has read/watched way too many lofty books/TV shows, I think I just got stars stuck in my eyes for fairy tale romance and dramatic love. 
R: If I said this wasn't the most relatable thing I've read this week, I would be lying. I totally feel the same.
R: You also have quite a few pieces about anxiety/mental health…how does it feel to be apart of a generation who is actively working towards putting an end to the stigma around mental illness?
K: I love it! I'm so grateful to not only be a part of a generation but a poetry community that's more vocal about mental health. Especially having parents who sweep mental illness under the rug and don't understand the importance of taking care of one's mental health. My depression/social anxiety started in high school, and I felt so alone and like there was something wrong with me because I had no one I felt like I could talk to. But the openness about mental health over the past few years inspired me to start going to therapy. And sharing and reading poems on anxiety/mental health helped me realize that I CAN talk about this and I'm not alone, which has inspired me even more to be more vocal about it on my IG. 
R: I'm so happy that you've been able to find this space and that it's really helped you feel like you're not alone. That is truly one of the reasons I write about my own mental health!
R: What does your creative process look like? When you're writing…Music? Silence? Night? Day? Laptop, pen and paper, typewriter, phone?
K: I'm usually listening to music and writing on a laptop because my thoughts sometimes run too fast for pen and paper. I've also gotten into the habit of writing on my phone, as inspiration tends to hit me at any moment. Half the time, I write when a poem comes to me. But I've learned over the past year to sit with the intention of writing. Prompts and writing daily has helped a lot with that. But I'm still always open to jotting down a poem when it comes to me out of nowhere.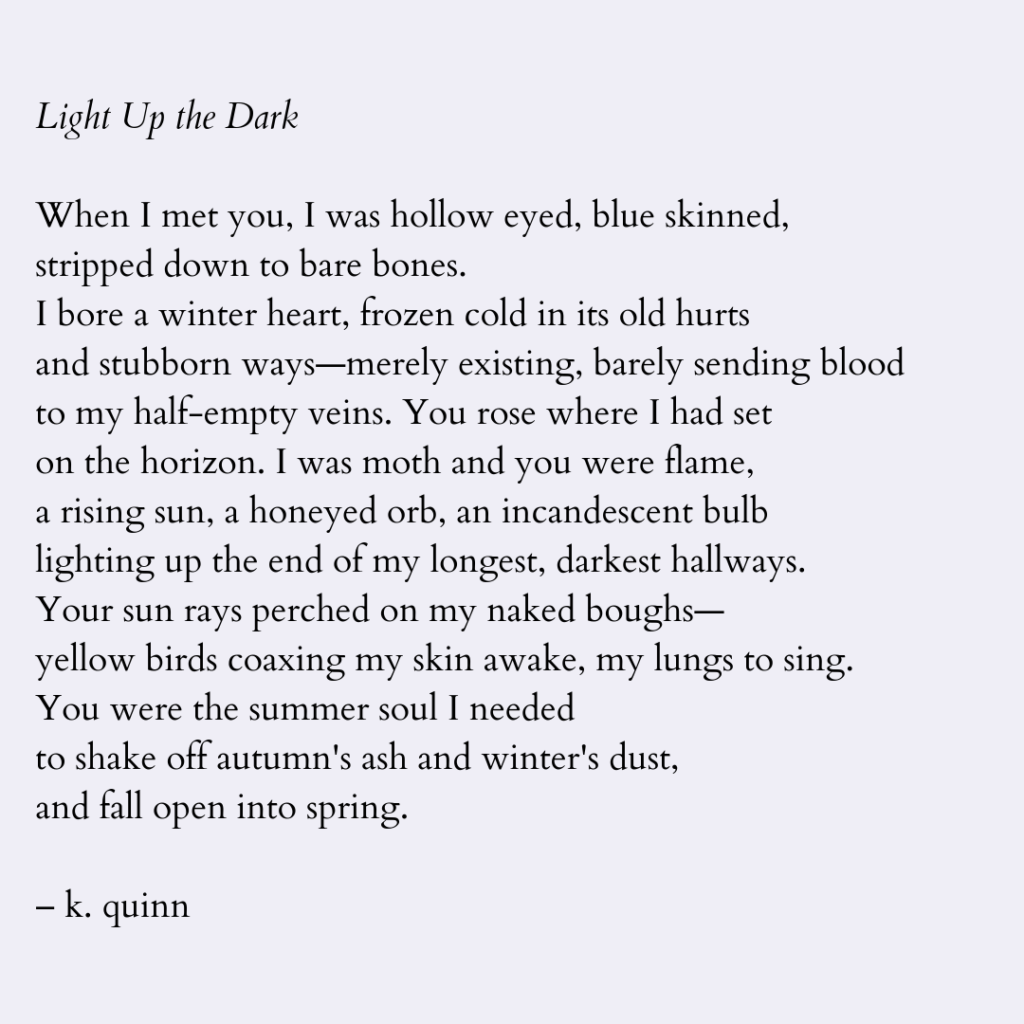 R: What would you say is your most interesting quirk?
K: I always leave one or two bites of food on my plate. Unless I'm eating a pastry. I always have room for dessert.
R: Writing a book? Tell us a little about it! – If no, do you think you will?
K: While I'm not actively writing a book, I do have two books planned and feel like a lot of what I'm writing now is for those books. One will be a follow up to my first poetry book, A Time for Winter, and the other will be on love/lust/heartbreak and all that fun stuff.
R: Exciting!! (Readers be on the lookout and make sure you grab her first book on Amazon! Just click above!)
R: How have your personal experiences shaped your poetry?
K: My mental health has had a huge impact on my poetry because it's the whole reason I started writing poetry – as an outlet for all the intense and confusing emotions I was feeling. I also always joke that my first relationship, which was pretty toxic, was a blessing in disguise because it gave me a lifetime of content.
R: What does writing bring to you? An escape? Healing? A sense of joy and happiness?
K: Healing, clarity, and so much happiness. And with IG, it helps me connect with others.
R: What are some of your passions outside of writing/poetry?
K: Reading, cooking, and baking. I'm also vegan, so I try to get involved with the plant-based community as much as I can. I've spent the past year creating social media content for a local farm animal sanctuary on a volunteer basis, and it's been so fun and rewarding to combine my passion for writing and my compassion for animals. And while I've put it on the back burner this year to focus on writing and job searching, fitness has been a passion of mine for the past decade. I'm not a bodybuilder or anything like that, but running, strength training, and yoga are normally a part of my daily life. 
R: Wow! I'm also vegan! What an amazing project to work on, I can see how it would be very fulfilling! I love yoga, as well.
R: Any tips for new writers?
K: Write. Every. Day. I know you've heard this before. And I know there are days when it's just not in you. And I know that feeling of not wanting to force it. And of course, there's writer's block. But after writing every single day for the past six months, I finally understand what writers mean when they say to write every day. Some days it's going to suck. You're going to toss a lot of poems. You're going to force it and your work will blatantly be trying too hard. But eventually you'll hit a point where it's in your blood. It's like breathing. The words will keep coming and you can't stop them. I KNOW this. And of course, read, read READ. You'll learn new styles, you'll discover new words, find inspiration, know what you like and what you don't like. And if you can, join a writing group or find a writing pal who can critique your work. This is advice that I don't take myself, but I know that it's a key part of improving work and have experienced its benefits in the past.
R: This is all incredible advice! I love it!
R: What you think about the Instagram Writing/Poetry community? How did you get started on Instagram?
K: Don't get me started! I love the IG writing and the poetry community with all my heart! I think IG has helped make poetry a thing again. People who don't normally read poetry are reading poetry. And maybe they're not reading Sylvia Plath or Mary Oliver or T.S. Eliot, but the fact that they're reading poetry is a win for the poetry community. It's also a great platform for poets because it shows that you don't have to be published in a literary journal to put your work out there and gain a readership. Literary journals keep rejecting your work? So what?! Post it on Instagram. A publisher has yet to accept your book manuscript? So what?! Self publish that shit and promote it yourself on IG. 
As for the poetry community, I can't even handle how warm, kind, welcoming, and supportive everyone is here. Being a part of this community is the first time I've felt a true sense of belonging in years. I love being able to share my work and read others' and support my fellow poets. There's so much good poetry out there, I can't keep up! And if it wasn't for Instagram and the popularity of IG poetry, none of us would have discovered all the brilliant poets out there.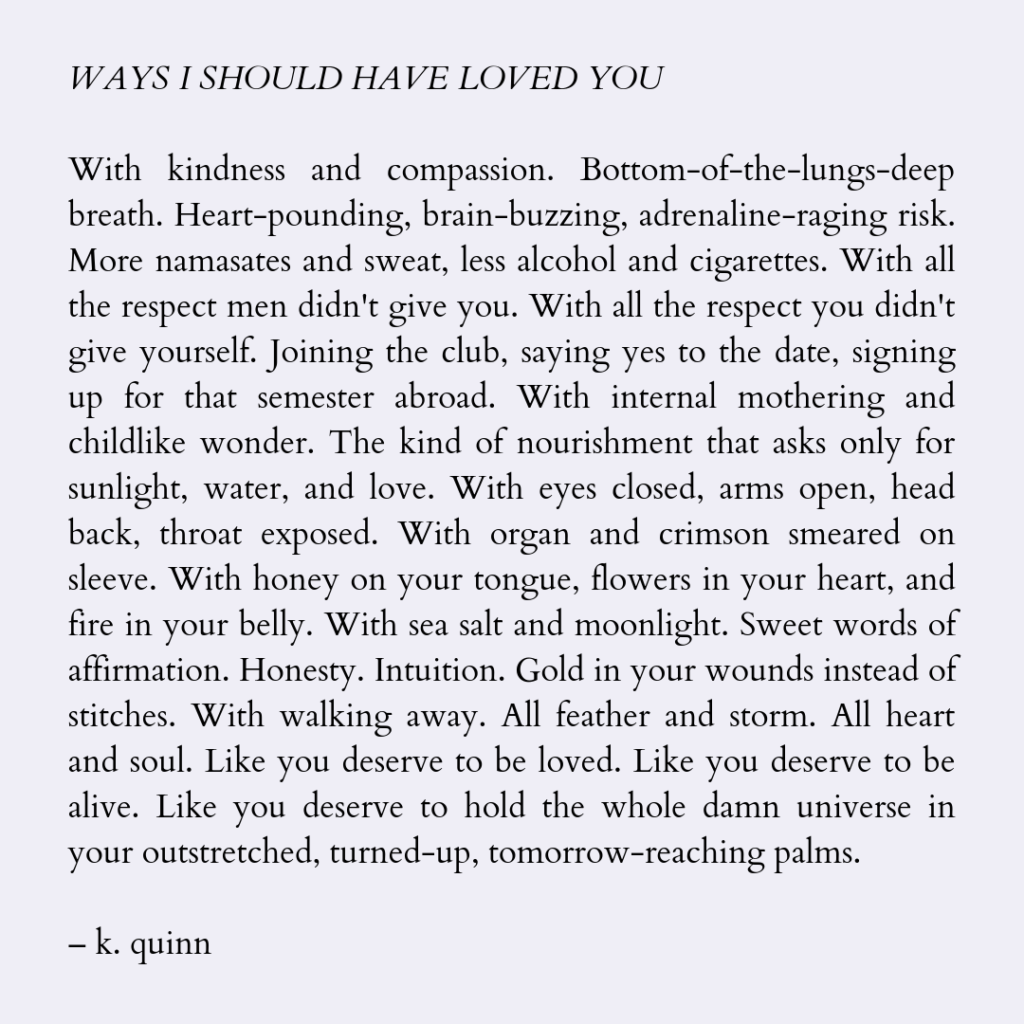 R: Do you believe in writer's block? 
– If yes, what would you say is the best way to work through writer's block? 
K: Yes and no. I don't think writer's block is something that happens to us. I think writer's block is something that we create in ourselves. I think it's a result of censoring ourselves or blocking emotions we're not ready to face. I think it can also simply be a result of stress or lack of focus. I say all this having experienced writer's block. But since I've stopped burying emotions or censoring what I write or share on IG because I'm afraid of who might see it, I haven't felt blocked in months.
R: I love your answer; I think it holds a ton of truths!
R: Self proclaimed bookworm! I'm the same! How many books have you read through this year? 
K: 30! Last year, I started a goal to read 50 books a year. I'm about 8 books behind this year, though, so I need to step it up!
R: That's a great number! Congrats!
R: What would you say is your favorite genre?
K: Drama and young adult fiction – because I'm still a teenager at heart. I read my first Stephen King novel this year (I know, I KNOW) and I think I may have found a love for the horror genre.
R: What is your favorite book(s)?
K: The Perks of Being a Wallflower by Stephen Chbosky. I read it every fall, though I have yet to get to it this year. 
R: I love that book so much! The name of this blog is a quote from The Perks of Being a Wallflower, haha!
R: A book that made you cry?
K: Oof. Probably too many to count. The ones that come to mind, though, are The Fault in Our Stars by John Green and Flowers for Algernon. To be honest, I don't remember anything about that second one because I read it once in middle school. All I remember about it is that there was one part that made me bawl my eyes out and it was the first time a book had ever made me cry.
R: Oh man, The Fault in Our Stars was a tear jerker…
R: Favorite author?
K: Jodi Picoult
R: If there was one modern poet/writer that you could sit down with and just talk about poetry, instagram, social media in general and have a cup of coffee (or tea) with… who would it be?
K: Chelsie Diane aka @poemsandpeonies because she's a freaking goddess and brilliant and who wouldn't want to have a cup of tea (or a glass of wine) with her?! I feel like a conversation with her would be full of belly laughs, love, poetry, and deep self discovery. Pavanna Reddy aka @mazadohta because I'm just in love with her poetry and she seems like someone you can have a deep, fierce, soulful conversation with. She's also someone I'd love to write and share poetry with. And Rupi Kaur so that I can find out all her secrets.
R: What is your mission?
K: To keep living another day and never stop writing poetry.
R: Yes! What a beautiful mission!
Thank you so much Kaitlin! I truly enjoyed getting to know you better and I can't wait to read those future books! I'm wishing you the best of luck in all your writing endeavors and I hope we can work together again soon!
You can find Kaitlin on Instagram, Facebook, and Twitter. You can also check out her work that has been published in the Sorin Oak Review and the New Literati literary journals! Thank you for reading and I hope you will follow Kaitlin and send her some love! I promise you won't regret it!