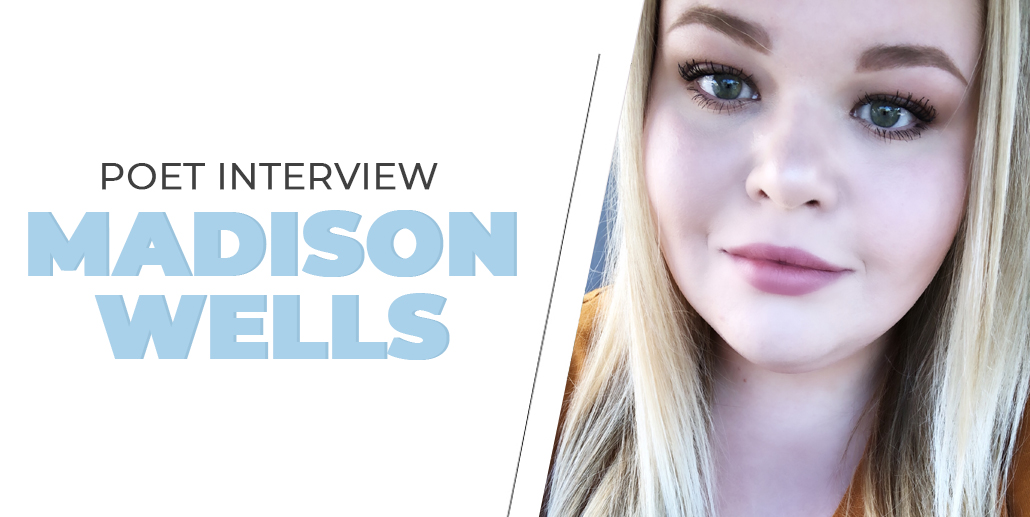 Poet Interview: Madison Wells
I just recently came across this lovely poet and I am so happy that I did! She is so sweet and is such a great writer! When she's not hanging out with the kiddos she nannies for, lifting weights, or baking pies, she's writing beautiful poetry and spreading love around the Instagram writing community. Take a few minutes and get to know her with me!
ReBecca: Did you always want to write? 
Madison: I would say both yes and no. I remember watching my dad constantly writing in a blue velvet book while I was growing up and he was always writing my siblings and I songs then singing them to us during bedtime. Then during school and while growing up, I was always naturally better at the literature side of things rather than the math side. I slowly started playing around with words and have always been relatively fluent with language and story-telling, I have a pretty big imagination! I didn't start taking it seriously up until this year though, mainly due to my own personal doubts. I slowly started to learn that writing is a great tool for me in order to communicate what I'm feeling but not am not always able to outright express.
R: That's amazing that your dad was so creative with you and your siblings as kids and I totally get the personal doubt side of things. I have wanted to be a writer since I was a kid and yet, I still haven't made any big moves until the past couple years because of self-doubt and general fear of failure.. 
R: What inspires you?
M: Mostly my own emotions and my personal experiences. Being able to have the chance to fully express myself in something and then I get to call it art makes me happy and makes me want to keep doing it! Being able to relate to others about big, complex things is also a huge inspiration. There is something comforting in a subtle, "I feel this, too."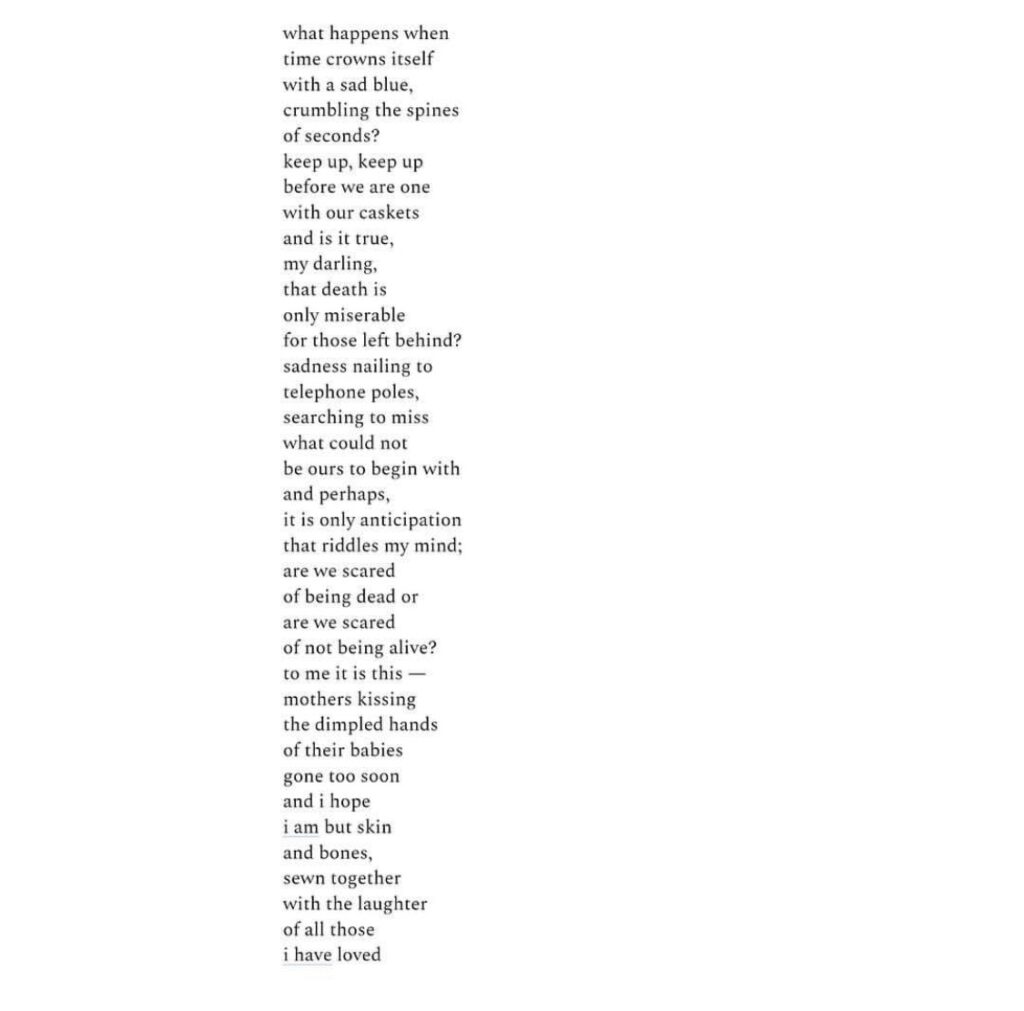 R: What are your favorite topics to write about? Why?
M: First and foremost, probably love. I feel like it is always transforming and it is never the same, therefore, it opens up opportunity to exercise metaphors and thought processes. Another one that tickles my fancy is writing about mental health / strength because they are both proof of my personal journey and then, death. I had a taste of a hard death at a really young age and part of me feels like it is part of who I am.
R: I truly adore your poetry; your love poetry is especially lovely and I'm so sorry you went through that but I totally get what you mean about it feeling like a part of you… I tend to feel that way about some of the trauma I've been through in my own life.
R: So, I love the imagery that you create in a lot of your poems, your love poems are especially beautiful and raw feeling… When you're writing these poems, does it take you time to draw up these images or is it just the way it flows out? Creating imagery, I think, is something I sometimes struggle with because most of my poetry is just word vomit…haha!
M: It really depends. At times, it will come very naturally and I will surprise myself! I work a lot on exercises that include me broadening my range of word use, as well. I naturally tune right into details – all around me, people, their actions, etc. However, there are times where I will have a line that meditates on my tongue for some time and I will consistently swish it around, allowing it to take different forms until I find solidity in it. Most of mine starts as complete word vomit though!
R: I love that!! You'll have to share some of these exercises with me! I love to work on things that make me uncomfortable and help my writing grow, haha!
R: You are a big advocate for loving yourself at any size and have some pieces about eating disorders, etc.. how does it feel to be part of ending the stigma around these topics and also, inspiring and empowering women to do the same?
M: At times, it feels completely empowering and other times, it's defeating. To be really honest, it is difficult to live in a world that is constantly telling you that you aren't allowed to take up space or that you aren't healthy because of weight or that you're unlovable. I work with two little girls and I slowly came to a realization that I have an impact on them and how they will view their bodies someday – it slowly started out with them in mind and then it just blossomed from there. I spent years battling my body and fighting for my space, which only brought me more grief. I decided to just start doing small things in which would help me live my full, authentic life – regardless of size and the way society thinks I should view my body. It overall feels great to break down the stigma because I want to help people realize their worth, no matter the size of their jeans.
R: I totally agree. It is very difficult and I think you're so amazing for just bringing awareness because there definitely needs to be a shift in society when it comes to things so that it's not so difficult for us.
R: What does your creative process look like? When you're writing…Music? Silence? Night? Day
M: It's very messy. I write conscious thoughts every day and a lot of the time, a poetic line will come from it and then I build from there. Except I will usually rewrite a piece at least ten times until I figure out a natural flow of the piece.
R: Laptop, pen and paper, typewriter, phone?
M: Sometimes with pen & paper, sometimes on my phone in Google docs! I don't typically listen to music because it will distract me and I find that I'm basically writing what the artist is saying, so I personally love the silence. I feel like I get my best lines right as I'm falling asleep, or sometimes I will dream about a poem, but I do the majority of my writing during the day when I feel like my brain is at peak.
R: I feel that about sometimes writing what the artist is saying… I usually write to music but if the music is something I really love and like grabs my attention, I cannot write. I have to switch to something less in my feelings, haha! I also feel like I get my best lines as I'm falling asleep! It's weird but I think the more I try to switch off my brain, the more it's like…"heh..no."
R: What would you say is your most interesting quirk?
M: When I first started thinking about this, I couldn't think of anything then things started slowly trickling in! One, I psychoanalyze every person; I have been in love with psychology for years now and I find myself always digging deeper into why people are the way they are. It's sometimes a bad thing as some people don't like to dive that deep so I've learned how to keep it pretty low key. Two, let me pull out my tin foil hat and let's talk conspiracy theories. I love things that make me think and conspiracy theories do just that! Do I always believe them? No. Do I love all the crazy ideas? Definitely. And three, I have extremely weird hiccups!
R: Ha! I love these! I totally agree that conspiracy theories are super interesting..
R: Writing a book? Tell us a little about it! – If no, do you think you will?
M: I am still unsure. I think about it because I think it would be a great accomplishment for me and would be an awesome opportunity to spread more of my thought guts to people, but then I start thinking about all the stress from producing a book and I instantly shy away from it. I mostly just love taking my writing day by day, for now!
R: I get that! You have to do it for you and if you're not ready now, it's okay! Maybe one day!
R: How have your personal experiences shaped your poetry?
M: Where do I even begin with this one? My poetry is drooping with everything personal and I feel like I can never hide it – but isn't that the point of poetry? I feel like my poetry is always tinged with a place that comes from within, therefore, is tainted by something I have experienced. It's hard for me to try and write from a place that doesn't have a memory hanging on for the ride.
R: What does writing bring to you? An escape? Healing? A sense of joy and happiness?
M: A lot of clarity. If you ever try to have a conversation with me, you will quickly realize that I move very quickly through my thoughts and they don't ever stop at the red lights. I am always thinking! The only way for me to bring organization to those thoughts is either talking through it or writing through it. It also makes me feel really accomplished – with all of these thoughts, it is so easy for me to start something and then never finish it but when I write and finish something, I have to give myself a little pat on the back. 
R: You're a pretty badass lady! Weightlifter and poet? Damn! How did you get into weightlifting
M: Ah, thank you! I started an intentional weight loss journey back in May – I hired a trainer who introduced me to basic weight-lifting and I realized how much I loved feeling strong and the challenge. I slowly started finding all of these power lifters and realized that's what I want to do, so I expressed my goals and how I wanted to get into these crazy things and he was on board! Physically pushing myself has taught me how to love my body and reminds me of all the things that I am capable of. I lifted 300lbs at one time, what can stop me now?
R: That is amazing!! I love the confidence it seems to give people!
R: What are some of your passions outside of writing/poetry/weightlifting?
M: Pies! Baking! I make decorative pies and I bake.. a lot. I always thought that creativity was limited to pen & paper until I realized I could make flowers, braids, leaves, lattices, etc. out of pie dough and make something people have never really seen! I also really love to learn; I am constantly researching something new.
R: I love pie and researching. I'm pretty sure we need to be best friends.
R: Any tips for new writers?
M: Just start. Learn as you go. If it's something you really love to do and if you're passionate about it, don't let others' criticisms dictate your voice. Figure out how to exercise metaphors and imagery. Write about the things that scare you the most to write about – those are usually the things that need to come out. Learn how to write for yourself – the high of others' recognizing your talent can fade and if it does, what is your writing grounded in? Allowing yourself to be viewed in such a raw and honest way opens up a lot of opportunity for others to do the same. Set up boundaries if you need to! Just because you are ready to open up about your experiences doesn't always mean that you're ready to let others do the same. Last but not least, stay true to yourself. There's a reason you're wanting to do this!
R: What you think about the Instagram Writing/Poetry community? How did you get started on Instagram?
M: I absolutely love it! I haven't had any negative experiences and have met so many great people who have consistently encouraged me and have supported me on this journey. I actually got started doing Amy Kay's national poetry month prompts back in April – I finally coughed up the courage to put my work out there and it just took off from there.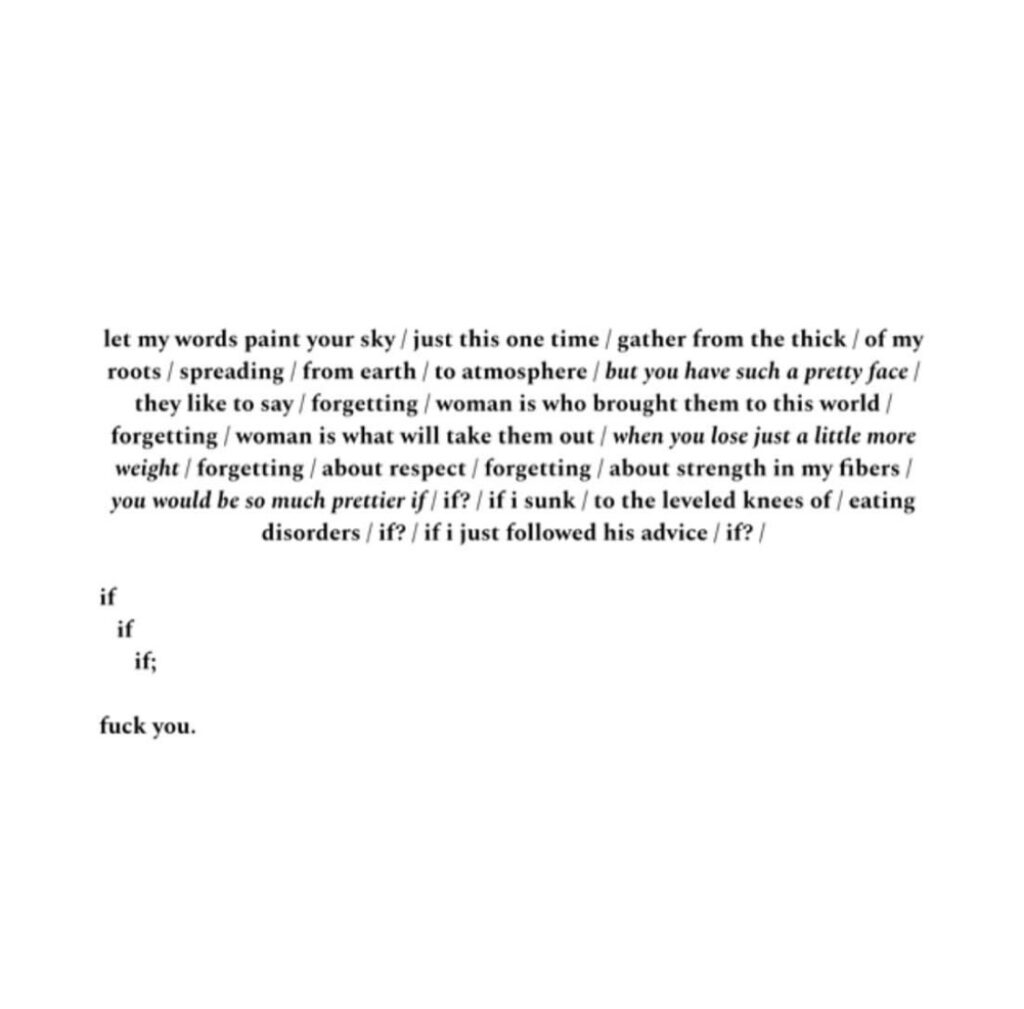 R: Who are some of your favorite instagrammers? Poets/writers/artists, I wanna know!
M: This is a hard one!!

R: Do you believe in writer's block? 
M: Yes, absolutely! However, writer's block for me isn't necessarily when the words won't come but when I feel like I am repeating the same piece over and over, just dressing it up in a different uniform. Honestly, I will read through Reddit threads. Ah, my secret is out! I do really encourage it though – everything is on Reddit and I feel like it's just all these people sharing big and weird ideas. It really allows me to open up my own thought process and allows me to think freely.
R: I just made an account on Reddit recently and I totally agree that it's awesome. I will have to read through more of those threads now! Haha!
R: If you could choose one favorite piece of writing that you've written…what would you choose and why?
M: There was one that I wrote about death / thoughts about what happens when we die. At the time, I had really been thinking about the spectrum of death – how there is no more "you" when you die. It ultimately doesn't impact you, yet completely impacts those around you. We all have this snapshot of time to be who we want to be, but we never get to happen again. There is so much terrifying beauty in how it is that we have the misfortune of consciously being sad about it. Yet, tangible answers and explanations regarding the topic cease to exist.
R: Favorite book?
M: All the Light We Cannot See – Anthony Doerr
R: Favorite author?
M: Honestly, Dr. Seuss – I live for his creativity!
R: A book that made you cry?
M: On Earth We're Briefly Gorgeous – Ocean Vuong
R: I just bought a book of poetry by him! I'll have to let you know how I like it! It's called NIght Sky With Exit Wounds.
R: What is your mission?
M: My mission? Hmm. I just want people to know that they are loved and that they are worthy, above anything else. I want them to believe they can accomplish all the things they really want to and it's never too late to start.
R: Where would you like to see your writing go? Wanting to make a career out of it? Is it more of a hobby? What's the plan?
M: For now, I just want it to go to the hearts that I need it. There is something powerful about the subtlety of someone saying, "I feel this, too." It teeters between hobby and branching out for something more, but I don't want to lose my love and passion for it.
R: I think that's great! I agree that those "I feel this, too" comments are super powerful.
Thank you so much, Madison! I am so happy that we were able to work on this interview together, I am rooting for you to write a book one day because I'm sure it would be amazing!
If you would like to see more of Madison and her lovely poetry, you can find her on Instagram!