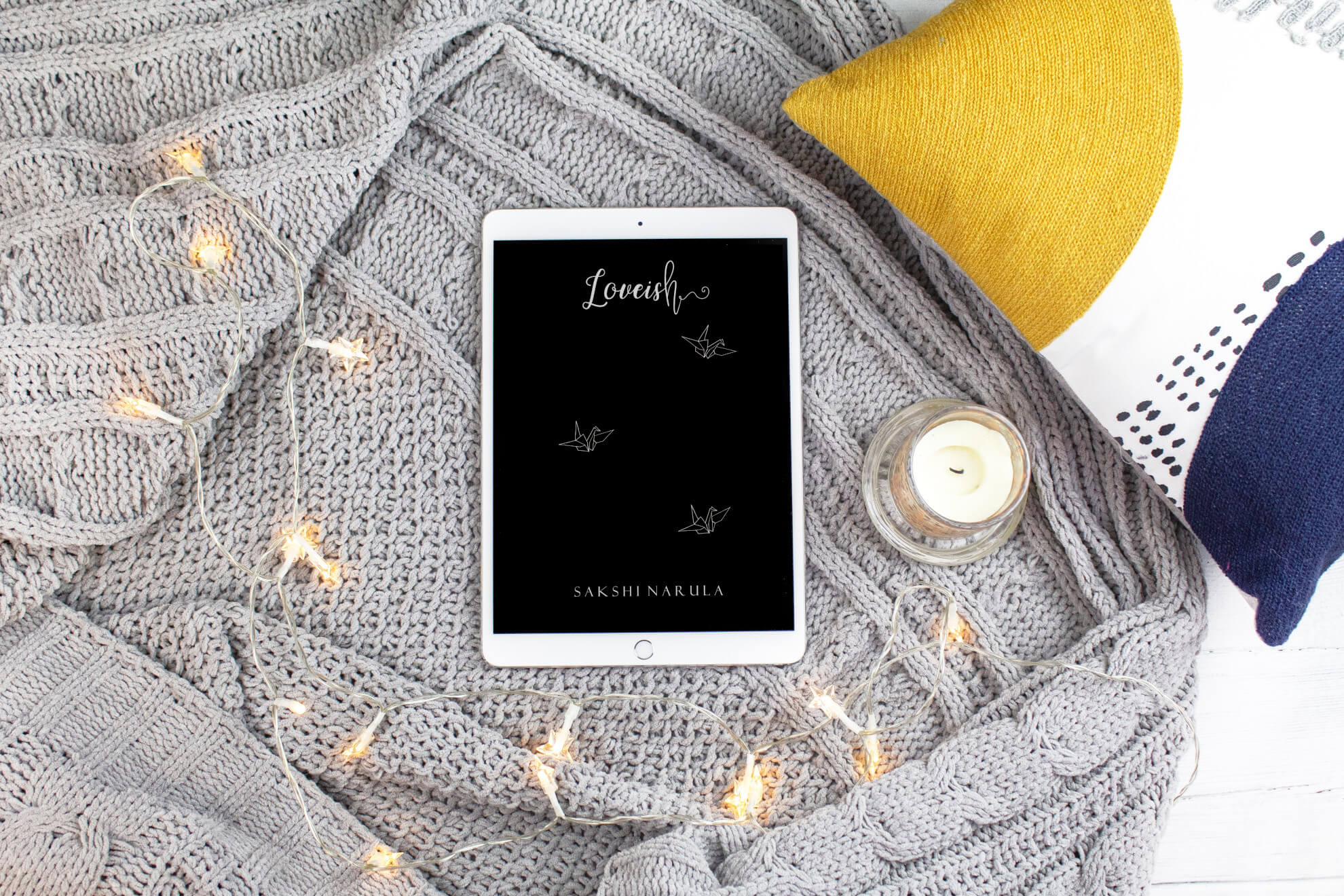 Book Review: Loveish by Sakshi Narula
Rating: ✩✩✩✩✩
Hey everyone! Welcome back to my blog for another book review! I have been following this lovely human, Sakshi Narula, on Twitter and Instagram for a little while now and was pretty excited to see that she had a book out already that I could easily grab thanks to the Amazon Kindle app!
Sakshi Narula is a poet/author from India and the title of her book is Loveish! As soon as you dive into the book, you are given two beautiful paragraphs explaining what exactly "Loveish" is and what it means to her. She then sums up her explanation with the perfect description…
"The middle. Not love, not lust. Loveish!"
In this collection of poetry, Sakshi takes us through a journey of lust, love, and loss. She writes about every aspect of relationships in their different stages and circumstances; it is quite an emotional journey as she touches on all of the feelings associated with them (longing, heartache, bliss, etc). There are many ups and downs throughout the book making it beautifully woven into something that reads almost like a story.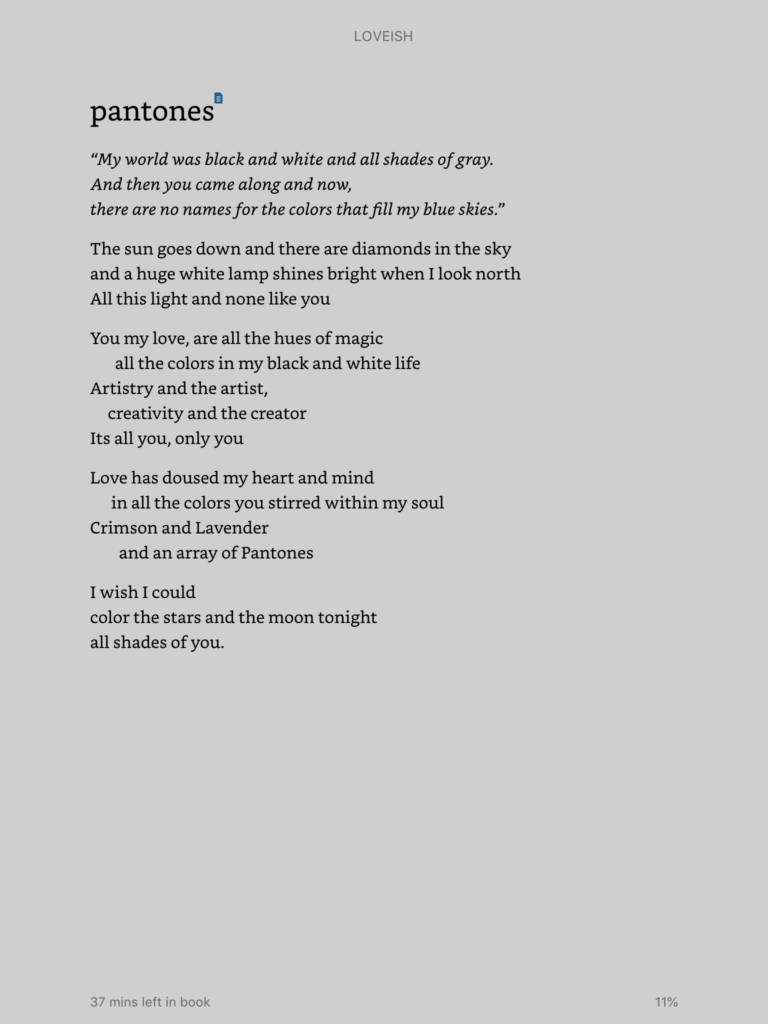 Her love poems are truly stunning; they had me wishing that some of them were written for me! In this incredible poem (to the left) titled Pantones, she creates gorgeous imagery. Expressing so much love and bliss; it is magical and lovely in every way. I adore it so much!
Another thing that I love about her writing is that she includes these little quotes before some of the poems which I think gives a unique style to her writing when compared with other writers and poets. I think it also adds another layer to each of her poems. 
She also touches on some real pain. Her poem "The Shower" (which you can read in the photo on the right) is one of my favorites because it's so relatable. She writes in such a raw, haunting, and heartbreaking way; I really fell in love with those qualities in her work. She doesn't hold back. Her emotion is lying there, bare, on the page making it more relatable and enjoyable to read. 
Sakshi has created a beautiful poetry collection and it is obvious that she has an incredible way with words. I would absolutely recommend Loveish to anyone who loves love poetry. There is such an amazing range of emotions throughout this collection surrounding the theme of love.
Now that you've read my review… I also asked Sakshi if she would be willing to answer a few questions so that we could all get to know her a little bit and read about the process of creating "Loveish"! So, let's jump right into the Q&A portion of this blog!

ReBecca: How long have you been writing?
Sakshi: I have been writing for over 12 years now. I used to ghost write articles and even had a blog at one point. Poetry is something I started writing about three years ago.
R: Where do you draw your inspiration from? Is it safe to say it's from your own life experiences?
S: Yes! Largely my work is inspired from my own life experiences but also books, music, and movies inspire me too. I truly believe that the poem finds the poet.  My work is not all based on facts though. I build stories as I go in my poems but it is based on emotions that I may have felt at some point in my life. Also, I am a very passionate and sensitive person. I observe people and their behaviors very closely. I love writing, it comes naturally to me and it helps me process my own feelings and emotions.
R: I relate to this so much.
R: How did writing "Loveish" help you when it comes to all the heartbreak, fear, and resentment you write about? Was it cathartic and healing?
S: We all go through our share of heartbreaks and pain. We all have our breaking point and there are a few people in our lives who literally can push us over the edge. Is it avoidable? I doubt that, I doubt anyone can be ready for love or a heartbreak. Heartbreaks come in all forms, shapes and sizes. Friends, family, lovers, circumstances in your formative years and beyond…anything really could break you when you are vulnerable. Vulnerability in itself is not a negative state to be in because you are more open and gentle as a human being if you are vulnerable. Feelings never come at you one at a time or in isolation, when you are in pain, you are in pain because of a million other small and big things that led you to this point along with the thing that actually caused you pain. So yes writing about it definitely brought healing and closure to some extent. Through writing one can see clearly where they stand at this point in their life in the middle of all the mess their heart and mind is in. The process was definitely cathartic because I am no longer the person I was before the book was written, I am stronger.
R: How emotional was it for you to write a collection about such an intense topic? You go from lust (longing), to being full of pleasure, to being in love, to being heartbroken.. it's a lot of feeling!
S: I wanted Loveish to flow like a love story and cover all areas of a relationship that make you feel like it's the right one. But the truth is that it is not always what it seems. Hence you see a gradual progression from love to lust to heartbreak and grief in the book. I use real emotions to build a story and the story has a lot of fictional situations as well. So it was very emotional but equally creative. For example the poem called Famous in the book is about the one that got away/ missing someone you once wanted a life with. But there is a story in that poem, an imaginary world within it. The emotions are real, I just built a story around it.
R: Yes! I totally see the "story."
R: How did you come up with the idea for "Loveish" (the word itself)?
S: I wrote a poem long before the book was even conceived called Loveish which later became a part of the book. My idea behind it was that someone may be everything you ever wanted, there may be passion, intimacy, in your relationship with them and still  they may not be the right person for you if they are unsure of their own feelings. They may cause a lot of chaos, turmoil in your life and definitely a lot of pain. But any relationship that confuses you is just not it. It may even be toxic to a great extent. Love is emphatically sure and loud. It is a safe and secure place. Though it may remain one sided or unrequited if the feelings are not mutual.
R: What has been your favorite part of self publishing this collection?
S: I enjoyed the whole book designing process. When you put a book together, writing is one half of the process. You want the book to have a certain feel and you want people to look at your story through your eyes. And when you are self publishing you enjoy the freedom of creating that world.
R: Yes! This is definitely an advantage of self publishing; completely and total freedom design wise!
R: Any advice for other writers wanting to self publish?
S: It's a blessing that we can self publish and reach hundreds of people through our work today. Your book is your voice, your opportunity to show the world who you are and what you are capable of as a writer. So spend a lot of time working on your book, edit, edit again and again till it feels right.
R: How are you and "love" doing now?
S: I am doing great and love has never been better. I am very happy with who I am now and with my life overall. I have been married to my best friend for the past 16 years and we have two amazing kids. It has taken us many years of healing, acceptance, forgiving and nurturing to create the life we love.
R: That's awesome! I am so happy for you! 
Thank you so much Sakshi for doing this little interview with me and letting us all take a peek inside your brain! I truly enjoyed it!
You can find Sakshi on Instagram, Twitter, Facebook, and Tumblr. She also has her own website which you can check out here! Of course, be sure to grab a copy of Loveish here on Amazon!