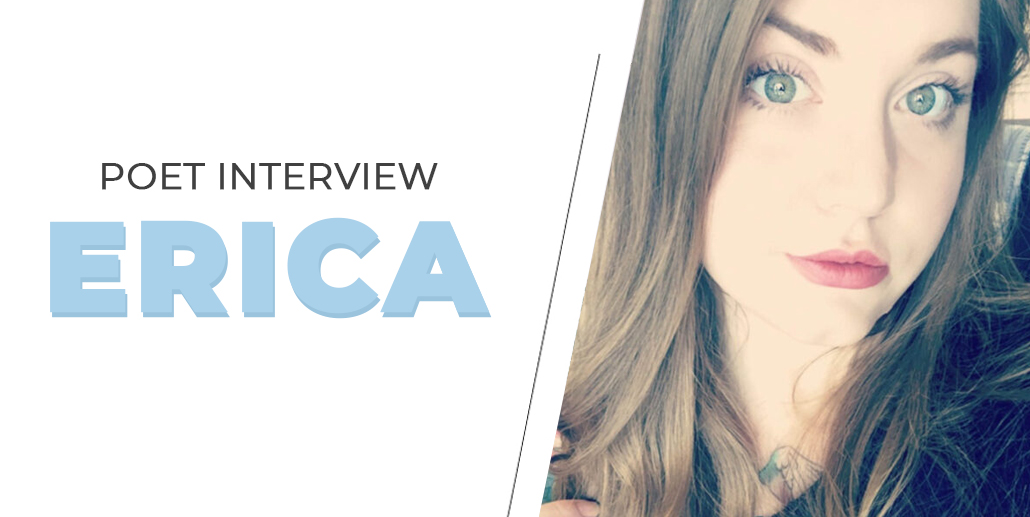 Poet Interview: The Phoenix Tattoo
Erica was the winner of a poetry contest that myself and four other women writers put together last week on Instagram! Her words blew us away; we were all quick to decide that she had done a phenomenal job with her piece, making our job very easy! Erica is an amazingly talented and fairly new Instagram poet who I have had the privilege of following and also becoming friends with just recently. She is super sweet and I was so excited to work on this interview with her and share it with all of you!
She goes by The Phoenix Tattoo on Instagram, where she shares her long form poetry on a minimalistic grid. Her work is full of relatable and honest topics that everyone is sure to love. Don't sleep on her work; it is a must read. You can find her Instagram page here.
Now, let's get to know her even more!
ReBecca: Did you always want to write?
Erica: No.
ReBecca: This shocked me! Wow!
R: If no, what got you into it?
E: I have only been writing for about 10 months. I was an English Major in college and really fell in love with poetry then. I began devouring it. In the end of 2018 I began suffering from what would become a monumental psychotic breakdown by May of 2019, and through the highs and lows of that, I found myself intensely creatively inspired.
R: What inspires you?
E: Tiny moments discovered in everyday life. Love. Pain.
R: These are the best things to be inspired by.
R: What are your favorite topics to write about?
E: I love writing about dark feelings, heartbreak, love, myself and my experiences as someone who struggles with mental health and positive self image.
R: What does your creative process look like? When you're writing…Music? Silence? Night? Day?
E: I write any ideas or lines down in my notes app. Sometimes those spiral into instant poems. Sometimes I come back to them a day or ten later and know where to take them. It's sporadic and never the same.
R: I adore the feeling of instant poems. They're the best!
R: Another mother poet!! It can be rough to manage our time…Writing plus social media upkeep can be a lot… How do you do it?
E: This is absolutely a struggle. Some days I put the phone down because I realize I'm spending too much time not basking in her glory. I try to write at work or after she's in bed, but if inspiration hits during our time together, I read my words to her. Sometimes she writes along with me.
R: This brought tears to my eyes!! I adore this!! You're incredible.
R: I was thinking about this the other day and I am curious to hear what you think… What do you think about someday, your child(ren) reading your work?
E: Funny because I didn't read this question before I wrote my answer above. I would love her to read my poetry as an adult. To understand me in a new way that she can not grasp now.
R: Yes!!! It will be incredible!
R: How do you know when a poem is "done"?
E: I can just feel it. When I think I'm rambling or explaining too much (show, don't tell) I stop and pull out what is unnecessary. I also have a few friends who will read my work and give me honest feedback.
R: All of your pieces are decent sizes, how long do they normally take you to write?
E: Typically I write them in about 10-15 minutes and post, but I may edit five days later if I think it's missing a certain feeling.
R: How do you feel about micro-poetry?
E: It can be done beautifully and thoughtfully, but when it's cliché or something I think anyone could have easily thought of, I'm not a fan.
R: I get that, you want to feel the emotion in something, not just have it be something for the sake of posting, etc.
R: You touch on some sensitive subjects in your writing…Do you use writing as a way of healing past traumas?
E: Absolutely! The reason I began writing and posting on Instagram was because I could no longer contain nor make sense of my feelings. I had bottled my entire life inside of me for 32 years, and I burst open with no way to stop the leaks.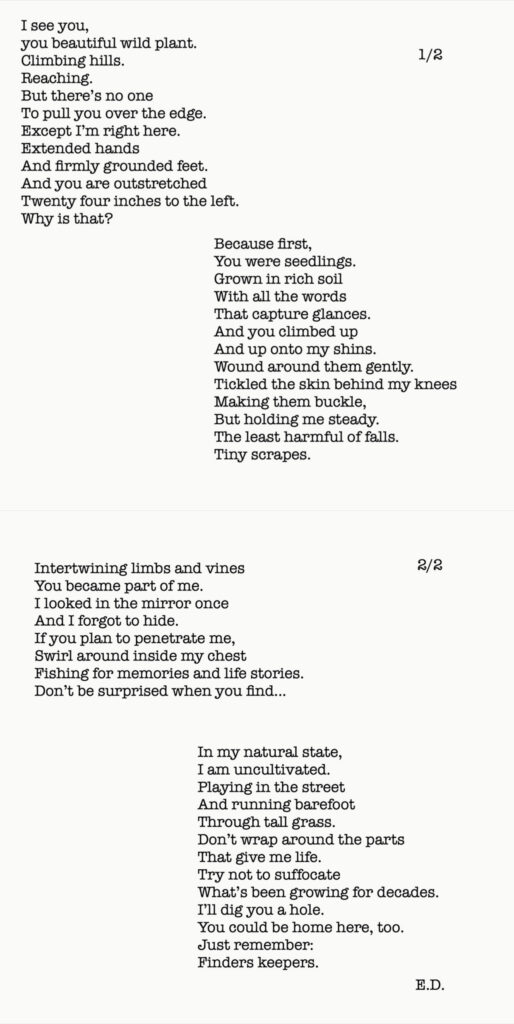 R: I ask everyone this because I feel like I have to know…So, laptop, pen and paper, typewriter, phone?
E: Phone but I want to get a typewriter when I finally get the flooring done in my writing room!
R: Yes!! That is exciting!!
R: Do you write only poetry? Or do you have some other projects?
E: I only write poetry and I only write here.
R: If no, Do you plan on branching out into other forms eventually?
E: I'm not sure to be honest. This is therapeutic for me, but if I could make a living writing, I'd absolutely branch out.
R: What would you say is your most interesting quirk?
E: My morbid fascination with serial killers and their psyche.
R: Writing a book? Tell us a little about it! – If no, do you think you will?
E: I always joke with my friends about writing a book of dating horror stories or an autobiography. As someone who is bipolar and has borderline personality disorder, I have lead an interesting life.
R: I would read it!!
R: Any tips for new writers?
E: If you are comfortable, be raw and honest. You'll feel a release like nothing else. Who cares if people like your work in the beginning? Do it for you, first.
R: What you think about the Instagram Writing/Poetry community? How did you get started on Instagram?
E: I came here to post my work privately because I didn't want my family to know. I guess I hoped to meet some like-minded people. I had no idea it was such a large community. It has some issues as we are human and mirror society except smaller, but overall it's a beautiful, supportive place.
R: Are there any Instagram poets that have inspired you?
E: I have made some great friends, had conversations that lead to poetry, and done some amazing prompts. Without a doubt these people touch my life and fill me with ideas.
R: Do you think you have learned anything about writing since being apart of the Instagram writing/poetry community?
E: I think the biggest thing I've gotten from this is that it's okay to be me and this is the first time, in my entire life, I have ever felt like this.
R: That is so amazing. It makes me so happy to hear that!
R: Do you believe in writer's block?
– If yes, what would you say is the best way to work through writer's block?
E: Yes. Most times I just wait until creativity comes back. Sometimes I read my favorite poets. Sometimes I do blackout poetry. Sometimes I write nonsense and see what happens.
R: Favorite book?
E: A collection of 100 Love Sonnets by Pablo Neruda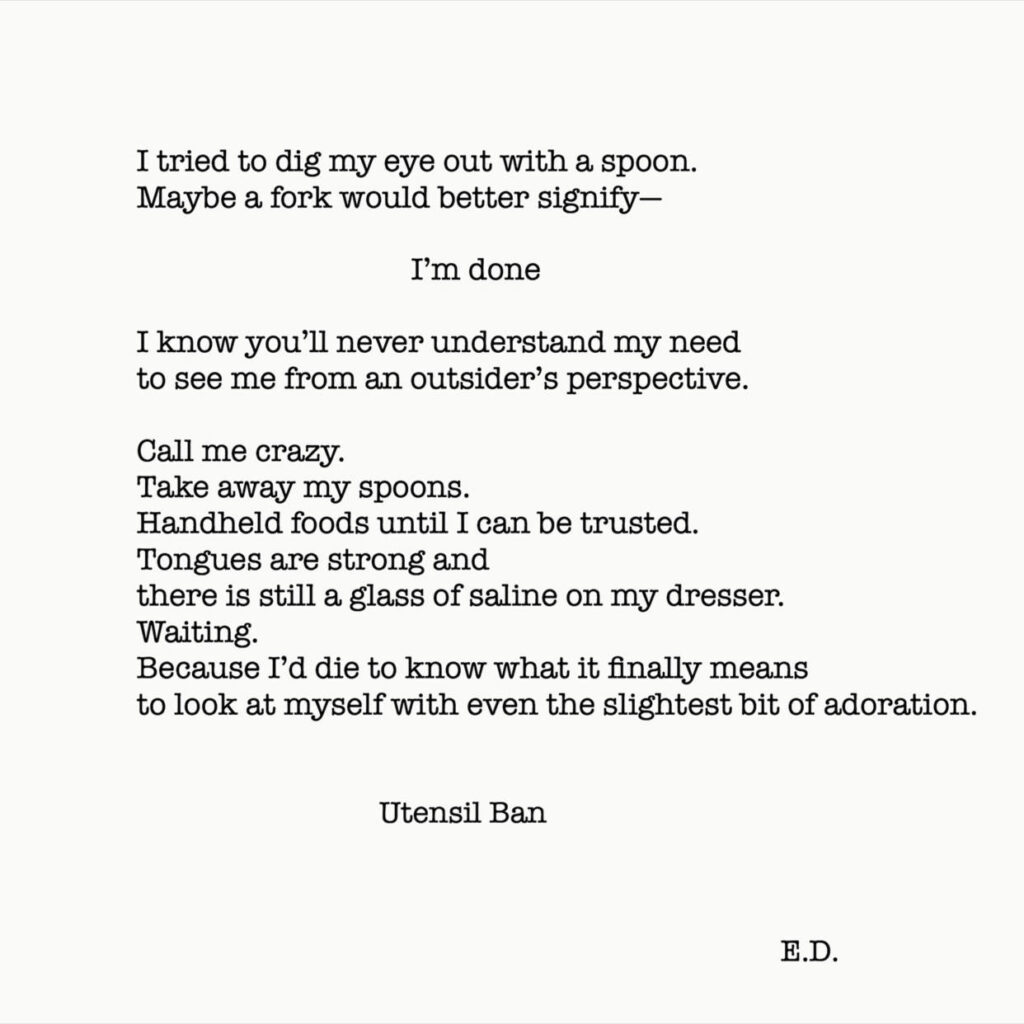 R: Favorite author?
E: Pablo Neruda (can a poet be an author?)
R: Absolutely!
R: A book that made you cry?
E: Notorious RBG: The Life and Times of Ruth Bader Ginsburg by Irin Carmon and Shana Knizhnik
R: When you're not writing…What do you love to do?
E: I love wandering around nurseries and pining over plants. I've also become quite the DIY home remodeler recently.
R: Haha! That's awesome! I love DIY things!
R: What is your mission?
E: To raise my daughter to be better than I am.
R: That is a beautiful mission, I relate.
Thank you so much Erica for metaphorically hanging out with me and answering all my questions! I really enjoyed reading through all your answers and I think that you're awesome! I can't wait to see what you create in the future; I hope you do write that book! For everyone reading, thank you so much for stopping by! I hope you guys also enjoyed this interview and feel like you got to know Erica a little bit more! You can find more of her poetry and her beautiful sense of humor on her Instagram @the.phoenix.tattoo.