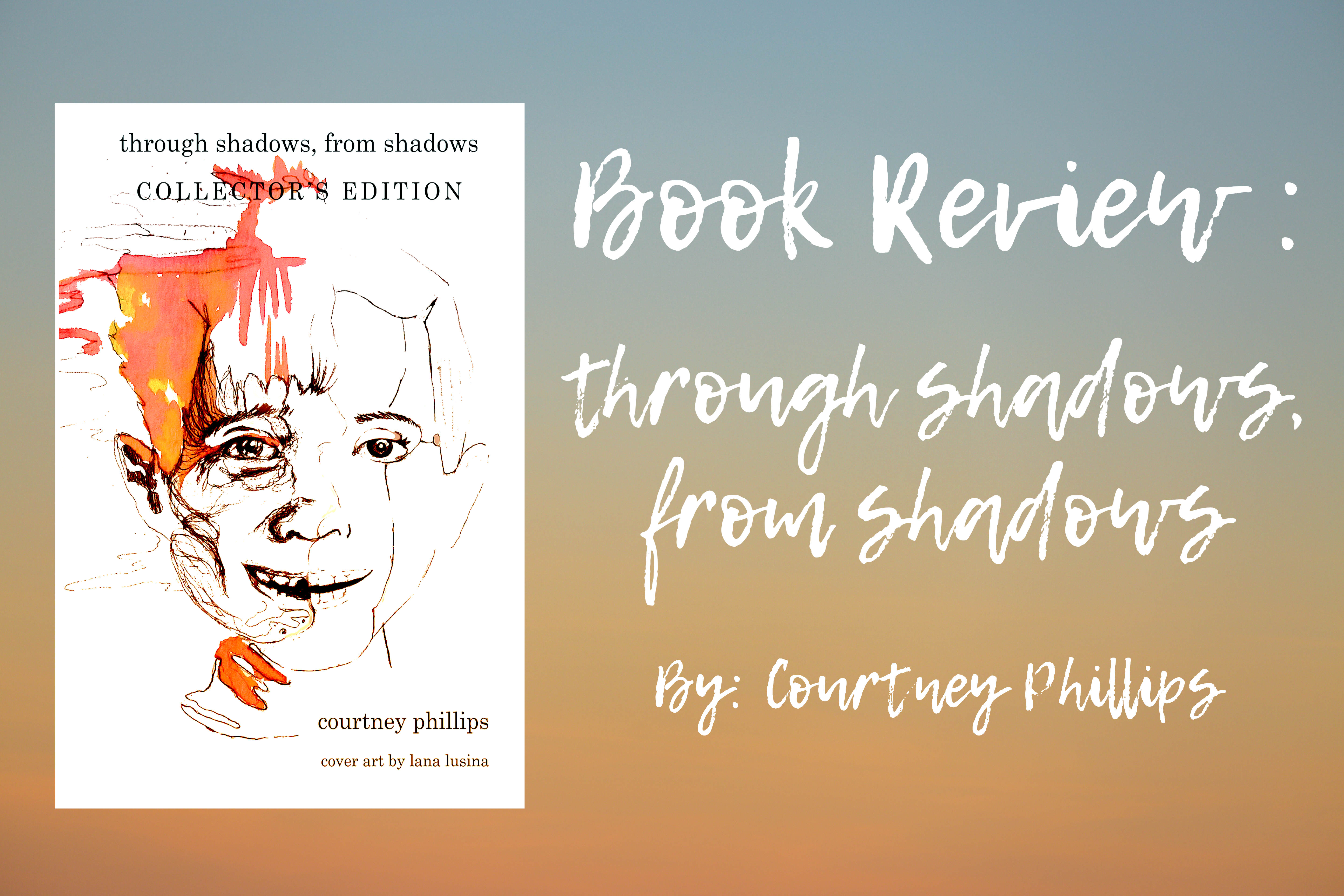 Book Review: Through Shadows, From Shadows by Courtney Philipps.
Rating: ✩✩✩✩✩
I was very surprised when I opened "through shadows, from shadows" and discovered that all of the writing was not poetry but actually fiction pieces! I haven't known Courtney for very long but I've never seen such long pieces from her so I got quite excited to read them and see what they were all about.
Once I dived in I realized there are 8 pieces total which are separated almost like chapters in the table of contents and the book is a total of 57 pages which, I thought was a bit short for a poetry book but continued on to find out that… These pieces are not poetry at all! This was surprising for me. I actually messaged Courtney to let her know how shocked I was and she had said, "Yes! They are actually flash fiction pieces!" She wrote this book when she was just 16 years old which I find fascinating and incredible. I always find myself impressed by Courtney and her magic, drive, kindness, and of course, her lovely writing. I wish I had put out a book when I was 16 just for the memories! She admitted because the writing was a bit older that she was nervous but I think that her writing has aged pretty well!
They all have similar themes done in different ways which I think was super interesting and each story is a brand new story; there aren't any continuations within the different titles listed. The themes are loss, death, anxiety, entrapment, hopelessness, etc. If I had to take a guess, I would say this book was probably quite healing for Courtney to write as it deals with a lot of "worst case" scenario type of situations, even though the work is fictional. 
Another thing that was very shocking for me was that some of these themes included futuristic spaces and characters. Things like AI and entirely different worlds which I thought was nice because it's really very different from what I would usually read, etc. I enjoyed the book and thought it was incredible to get to see this side of Courtney. I would definitely recommend you pick up a copy and check it out! She has put a lot of hard work and love into all of her books, this one especially which is one of four collector's editions and has the most beautiful cover!
You can find Courtney here and can purchase Through Shadows, From Shadows here! She has a lot of things coming out in the near future so be sure to give her a follow and keep up with all of her incredible projects!