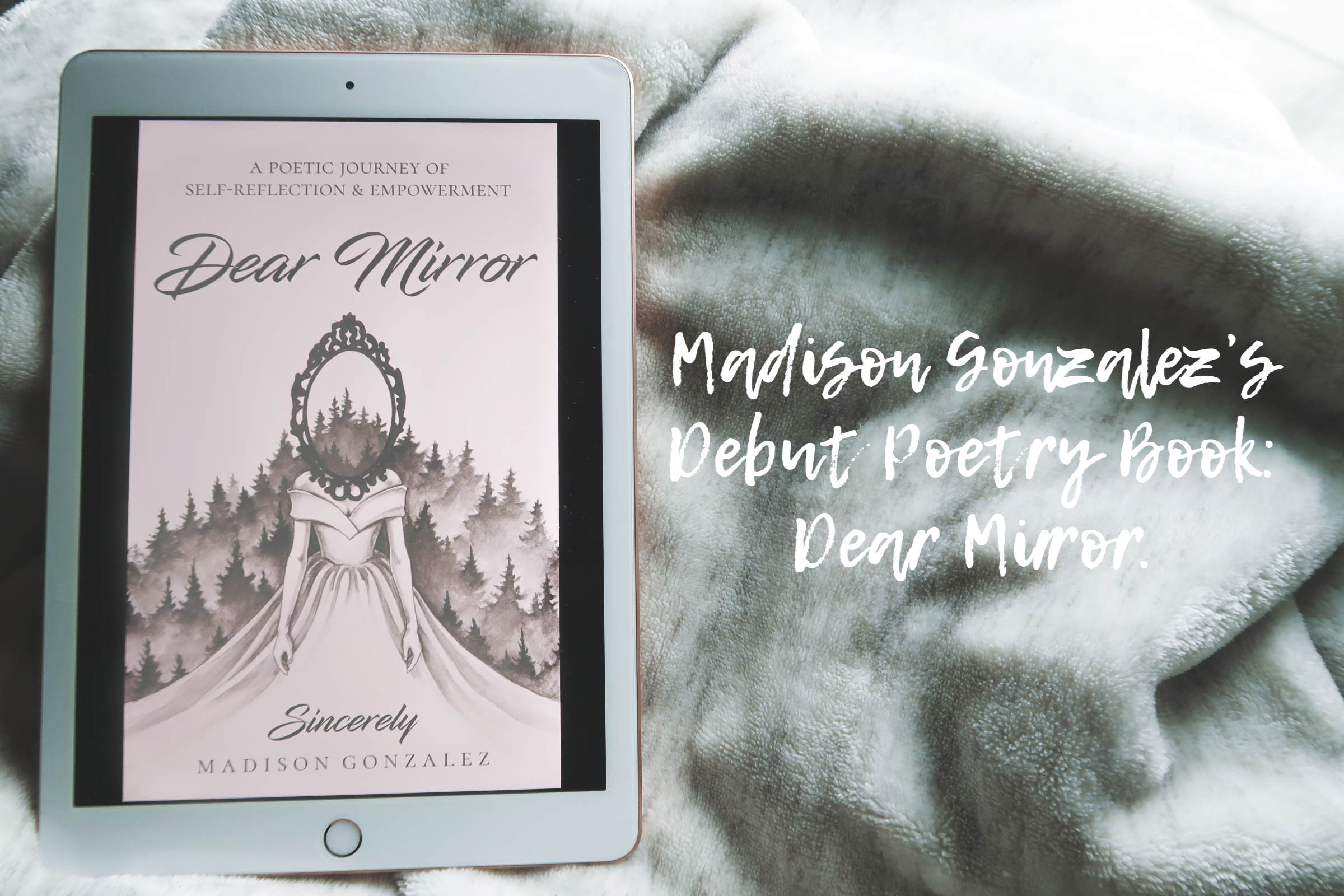 Madison Gonzalez & Her Debut Poetry Book: Dear Mirror
Rating: ✩✩✩✩✩
I met Madison through Instagram (of course!) and fell in love with her sweet and fiery personality; I was able to relate to her through her IG stories as well as through her poetry. When she told me she was releasing Dear Mirror, I was so excited for her! I love to see women going for their dreams and winning! Madison creates empowering, inspiring, and relatable poetry that dives into important topics (mental health, feminism, motherhood, etc) while also keeping her Instagram aesthetic pleasing to the eye. This mama is always ready to be raw, open, and honest, letting her followers know that she's there and always available to connect. 
Dear Mirror is such a good read!  As I jumped into the kindle version of this gorgeous book (which was done perfectly, by the way!) I fell in love with so many pieces as they resonated with my heart so wholly. She talks about postpartum depression (making this a great book for mothers!), anxiety, finding inner peace, growth, love, feminism, and more. I was so blown away by how much love Madison poured into this book. Her layout was done amazingly and although she chose to put minimal amounts of art throughout the book, the art that she did include is incredible! The cover is truly one of the prettiest covers I have ever seen; elegant and full of intricate detail. 
Here is a sneak peek of one of my favorite more feminist pieces from her book: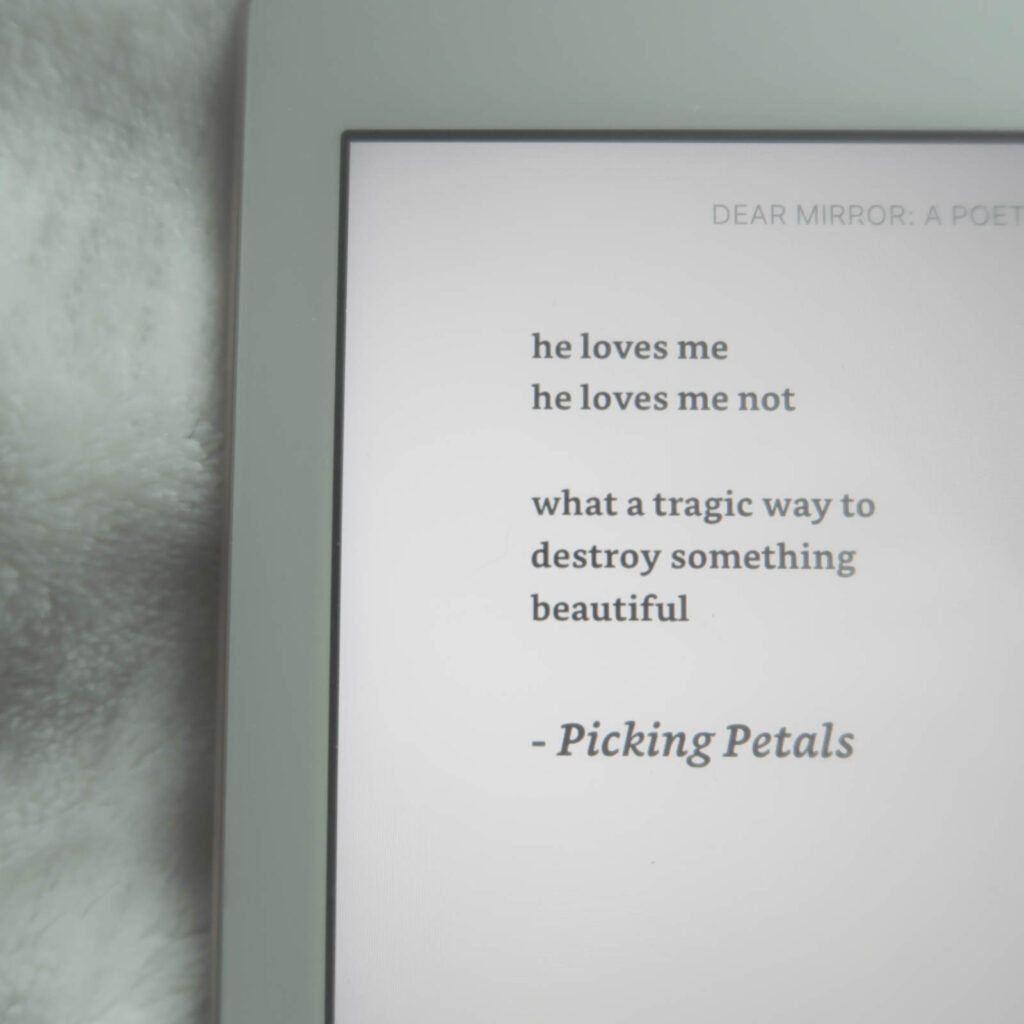 Her table of contents is also very unique; her chapter names so different than anything I have ever seen before. I had to look up what two of them meant (I should work on my vocabulary, for sure!). She has four chapters which are:
Part 1: Convex
Part 2: Refraction
Part 3: Concave
Part 4: Reflection.
She then starts off the book with a gorgeous introduction. The way that she writes this introduction is almost like you're watching a play. The first line being, "The curtain opens to a place of darkness." Wow! What an opening line! Then she continues to tell this "story" and ends it with "The foundation is strong because it is true – the crystal – clear reflection of self that can't be seen in any mirror; the most powerful force on Earth." So. Stunning. I absolutely adore it.
After I read the book, I sat down and sent Madison over some questions to which she answered so beautifully, I just had to share them!
ReBecca: This book is so powerful and talks a lot about loss, loneliness, grief, etc.. Where did the inspiration from Dear Mirror come from?
Madison: The greatest loss I have experienced was losing myself. My inspiration came from the desire to make sense of painful events in my life and the things that shaped me into someone I no longer knew. It took several years to really find myself again but I have never felt stronger. I want to help others do the same.
ReBecca: I'm so happy that you were able to find yourself again and to want to help others is amazing!
ReBecca: There is so much strength in this book; where do you get that strength from? 
Madison: Strength comes from feeding your soul. What you fill your mind with – what you watch, what you listen to, who you spend your time with all shapes your outlook. I have become very intentional about these things. I listen to affirmations daily and I surround myself with people who lift me up.
ReBecca: Yes! I absolutely love this answer! I totally agree with you!
ReBecca: You say that rebirth was not comparable to actual birth… why? The poem where you compared the two, is so relatable and I would love to hear your experiences!
Madison: Birth is so natural – it is difficult but it is not a choice; birth WILL happen whether you're ready or not. It must be done. Re-birth is a deliberate decision. It takes a grit, a drive and a discipline that I hadn't experienced before. Peeling back the layers that no longer serve you is not easy but finding yourself again is so rewarding.
ReBecca: What does your creative process look like? You're a mother so, how do you make the time to write? Time management MUST be involved! 
Madison: It's hard to explain my creative process. Usually I am struck with a word or a concept and I'll have to write it down right away or it eats at me. I rarely "sit down" to write; I write on the spot. Being a mom is certainly priority number one so if I'm in the thick of things I'll write down the idea and come back to it later.
ReBecca: How has writing a book and publishing it affected you? Especially being in the public eye?
Madison: Writing and sharing my work has given me a confidence and a freedom I've never had before. I think there is a lot of power in vulnerability.
ReBecca: What is your mission when it comes to writing? What are you hoping to do with it?
Madison: My mission is to deeply connect others and encourage them to share their stories. There is so much power in using your voice. I want others to know what they have to say matter.
ReBecca: Alright…last question! Are there more books to come? Other projects? What's next!?
Madison: Definitely more books to come. Already started! I plan to continue to write, speak, and start a coaching business in the near future.
ReBecca: That is awesome! I'm so excited to see how you grow and what comes next! Thank you so much for doing this interview with me; I absolutely loved the book!
I recommend this book to anyone! I don't feel like many other poetry books touch on the topic of postpartum depression so, I would especially, 100% recommend it to all of my "mom friends". Madison writes beautifully, with raw, honest, emotion; making her work relatable, inspiring, and empowering! You can buy Dear Mirror on here on Amazon and if you want even more poetry from Madison, you can find her on Instagram and Twitter!
Thank you so much for reading this review & interview! All of the love and support I receive is greatly appreciated! I hope that you enjoyed this blog and have a fantastic weekend!
I will leave you with just one more sneak peek into Madison's debut book, Dear Mirror!