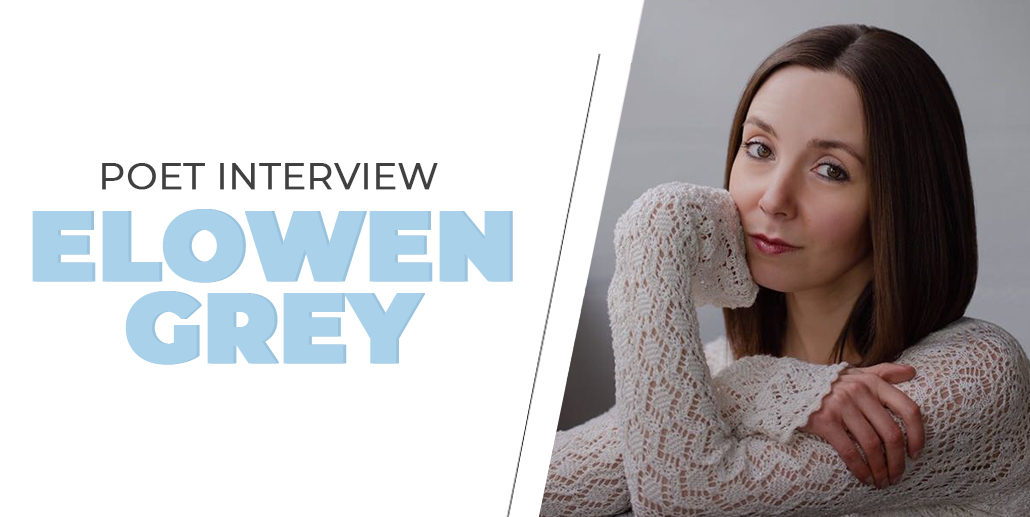 Poet Interview: Elowen Grey
Once again I'm back to share another amazing poet with you! I adore Elowen so much and I was so happy that she agreed to "sit down" with me and do this interview! Elowen is curator of @herheartpoetry as well as part of team P&P! She is a writer, a dreamer, and a survivor as she states in her Instagram bio; she writes beautifully about all things of the heart and I find her so inspiring. Make sure to check out her page and keep reading to get to know her even more!
ReBecca: Did you always want to write?
Elowen: Words were my first love. I was a self-taught reader and for most of my childhood I either had my nose in a book or was creating stories to share. Writing just seemed to easily flow out of that place. As I got older though, this was an area of my life that I was strongly discouraged from pursuing. I am now finally getting back to the place where I want to create for myself, to get back in touch with that part of my soul that is the organic truth teller of my experience.
R: What inspires you? What are your favorite things to write about?
E: Honestly, I love nature and happen to live in one of the most gorgeous of places. There is just something about the wind moving through the trees, the scent of rain and the sounds of a river that I adore and find so completely inspiring. I also find myself moving more in the direction of giving voice to my own internal landscape. I have started writing more on love, healing and giving little poetic snapshots of the very raw places that I find myself.
R: This is beautiful! I love that you're inspired by nature, I wish I could get around more nature…Hopefully soon!
R: What does your creative process look like?
E: Can I just say a bit all over the place? I would love to say that I light a candle, play some music and sit down to write in a journal that looks far too pretty to be used….but really, inspiration comes to me at the most random times, 3:00 in the morning, upon entering a roundabout or the shower etc. I tend to get these little spontaneous bursts of words that just need to be written.
R: Yes!! I love this answer! This is me, too. Although, I do get to light a candle and play music on a rare occasion which I think makes it special, haha!
R: You're a mother, like me, it can be rough to manage our time… How do you do it?
E: I think I put a lot of effort into this, but have ultimately had to come around to the fact that I cannot do it all. As a full time working mom, I am always trying to find the balance between my adult responsibilities, allowing my daughter to see me investing in myself and my passions and being there for her. Maybe this is why I write best a 3:00 in the morning? It may be the only time I am a blank slate completely to myself.
R: You're a super mom! Honestly, it's amazing and she absolutely benefits from her mama investing in herself so I'm glad that you are able to do that!
R: How do you know a poem is done?
E: I think this is so individual, but for me it's really about that feeling of satisfaction, that I have expressed a thought in the most honest and complete way.
R: Laptop, pen and paper, typewriter, phone?
E: I typically write with pen and paper or the notes app on my phone.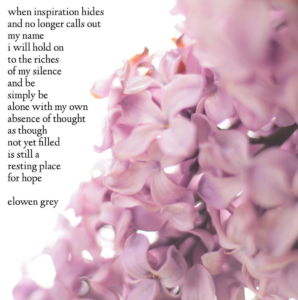 R: Do you write only poetry? Or do you have some other projects?
E: Poetry is my main creative focus at this time.
R: What would you say is your most interesting quirk?
E: I love coffee and I love chocolate but never together. In fact, I prefer my coffee black.
R: Writing a book? Tell us a little about it!
E: There will be a book….That's all I have for you on the subject (wink wink). R: Ahh!! I love the mystery!! This makes my heart so happy!
R: Any tips for new writers?
E: Keep reading and keep writing. Be gentle with yourself as you find your voice. Always write from a place of honesty and do not force anything that is not ready to come.
R: What you think about the Instagram Writing/Poetry community? How did you get started on Instagram?
E: I love the IG writing community! There are so many brilliant writers and I thoroughly enjoy reading their work. I have also found it to be such an encouraging place to start sharing my work publicly. This is the first time outside of a class where my words have ended up anywhere other than a shoe box. To all of you amazing souls who are reading my words, thank you!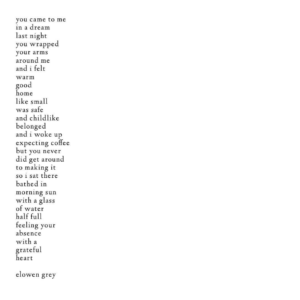 R: Do you believe in writer's block? – If yes, what would you say is the best way to work through writer's block?
E: Absolutely. How do I handle it? When I feel like it has been a while since I have written something that is meaningful to me, I try to just pause and not let my mind fall into that spiral that I will never write anything again. Sometimes I just need a break, to get out in nature, to listen to my heart. Other times I just let myself write anything, even if it's terrible just to get the words flowing again. It's almost like I have to get the stale words out to create space for inspiration.
R: What is your favorite book? Favorite author?
E: Favorite book? Favorite author? I can in no way come close to answering this and probably never will. Some books that I have read this year that have really touched my heart are:
• TheAlchemist
• Once We Were Brothers
• IAmHerTribe
• Pilgrim
• The Paris Architect
R: What is your mission?
E: My mission is to live a life full of honesty, creativity and genuine connection. I want to be better at listening to and honoring my heart, to get out of my own way and really show up for my life in ways that I didn't think were possible for a long time due to illness. These are the things that I consistently come back to whether it's in my relationships or my writing.
Thank you so much Elowen for answering all my questions! I enjoyed reading all of your answers and getting to know you more! I can't wait to see what you accomplish in the future and am so excited for that book you're working on! Once again, you can find Elowen on Instagram on her own page as well as over at @herheartpoetry and @penandpendulum! Be sure to check those pages out and give them a follow!