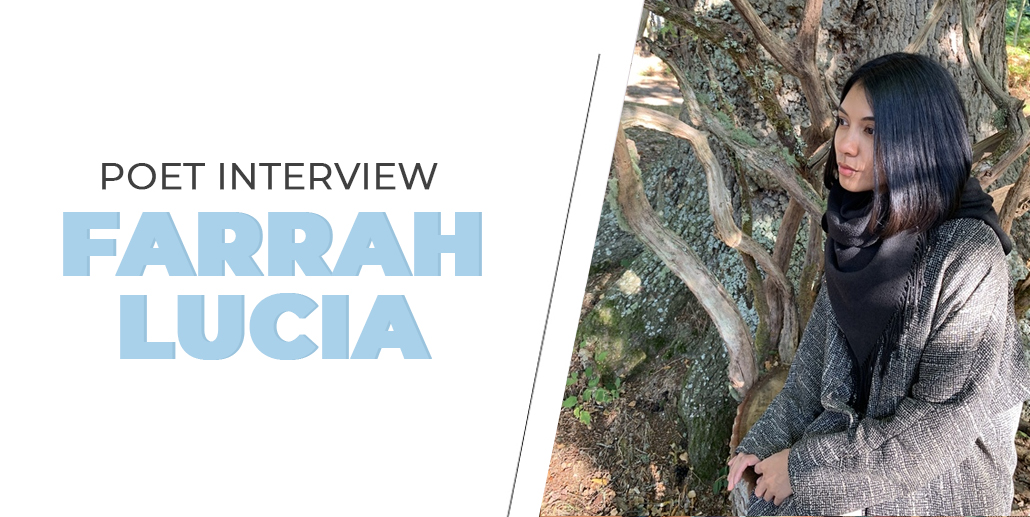 Poet Interview: Farrah Lucia
Here I am again! This time to introduce a poet whose poetry is so inspiring, raw, relatable and special. Her poetry is full of important topics like climate change, feminism, as well as, human rights in general; I find her voice so unique and refreshing and I am so happy to do this interview and introduce her to all of you! This lovely, London based poet, definitely deserves to have some light shone on her amazing work so let's get to know her and her poetry! We are going to start off this interview with a long form poem written by Farrah!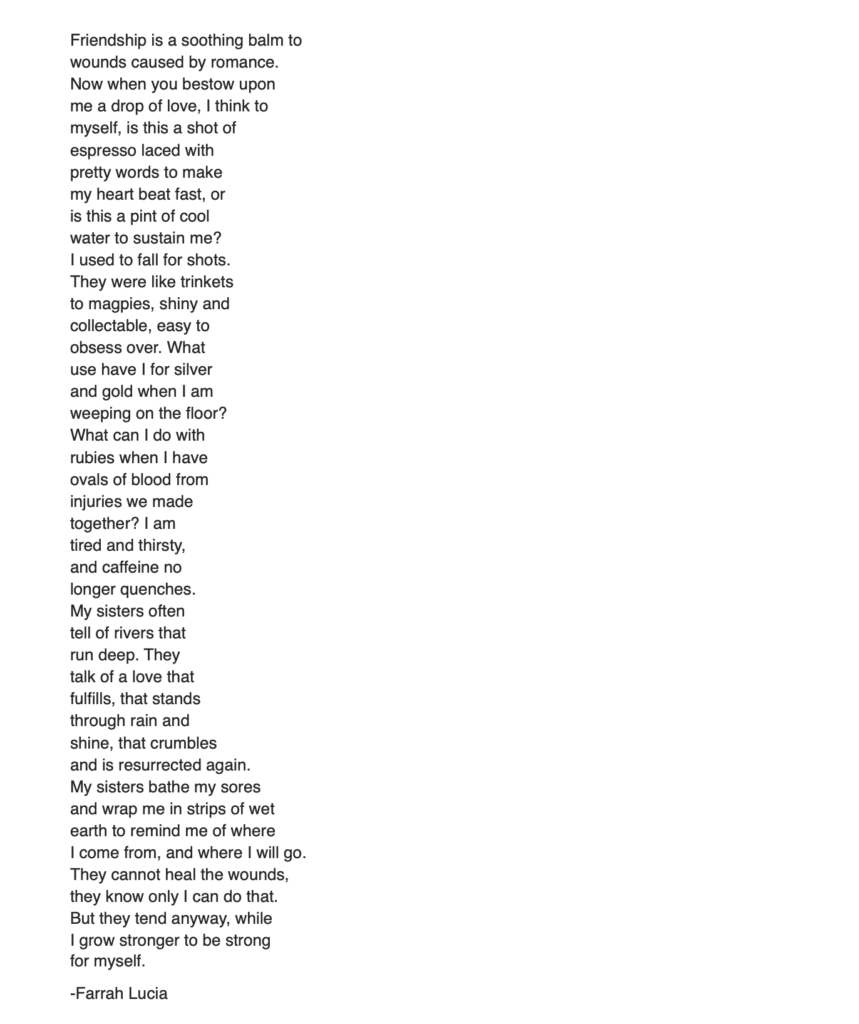 ReBecca: Did you always want to write? 
Farrah: I have always been compelled to write. When I was 9 or 10 years old my best friend and I created a monthly magazine for our classroom library; she liked to illustrate, I liked to write the articles. We used tape to bind the pages together. I must admit that I stopped writing at 18, because I had become thoroughly convinced that I could never make a career in writing. Thankfully, my compulsion did not stop, it was just my confidence that had taken a knock. My mind and my body still needed to write, to recite, and to create.
R: Aw! That's amazing! Sounds like you guys were a great team! I totally understand that, I kind of went through something similar. It can be especially hard to follow your heart when others constantly tell you that writing is not a "real career."
R: What inspires you?
F: Love inspires me. Love's light, it's darkness, it's beauty, it's violence. I like to look at Love as an organic form- the thing that drives the wind and the sea, and as a source that nurtures the Earth. I like to look at it's opposite, Hate, because Hate is on the same spectrum as Love. Hatred can be as equally inspiring as Love, but I feel it should be thought out with much more sensitivity.
R: This is really beautiful. I love it.
R: What are your favorite topics to write about?
F: Relationships, climate change, hope
R: What does your creative process look like? When you're writing…Music? Silence? Night? Day?
F: My writing space is quite often a creative mess. The typewriter will be out on the table, my laptop will be on the sofa, cups of tea are scattered everywhere and a notebook and pen are waiting on standby for good measure. Recently any poetry that comes to me will come out as I'm doing something else, like reading or listening to a podcast. This is particularly inconvenient because I have to stop one mental process in order to let the other take over, as well as remember to write it all down! As a result, a lot of poetry flows out and is never seen again. 
R: Just imagining the mess makes me happy! ha! I love it! I'm the same way, although I try to stay tidy…it just never happens that way.
R: Laptop, pen and paper, typewriter, phone?
F: Ideally, I will have all of these devices to hand. I like to switch instrument often. If I try to stick to one, I end up giving less time to writing and more time to formatting.
R: Yes! I feel the same way. Sometimes I also, just need a pen and a note book because electronic things like phone or laptop lead me to be distracted…
R: What would you say is your most interesting quirk?
F: I can't click my fingers. No matter how hard I try, or how much I lick my fingertips, they just won't click.
R: Writing a book? Tell us a little about it!
F: I would love to sit and write a whole book someday. I'm currently working on my inability to commit to such a thing.
R: I feel this. This was me for a long time! I hope that one day you will though!
R: You have you in your Instagram bio that you're "another sad brown girl" what does this mean to you? Fill me in!
F: It reminds me of all the great brown writers that are out there (Rupi Kaur, Nayyirah Wahid, Suhaiymah Manzoor-Khan to name a few). It gives me hope that representation is beginning to flourish, and also lends me a sense of not being alone – there are others out there who think about the things that I do, and if I could click my fingers to their burning lines, I would.
R: I love this so much. It literally makes me tear up; for sure there needs to be more representation for women of color and I'm so happy that they are beginning to flourish now.
R: You have so many environmental references in your poetry, why? Tell me why this topic is so important to you.
F: I am inspired by people's love for the planet. It's been a while since I've seen a meaningful protest that made a difference, so when the UK government responded by declaring a climate emergency, I was impressed. I attended a recent Climate Strike and was struck by the unity of the old and the young, coming together, all over the world, from Indonesia to Kenya to Japan. It takes a lot to bring people together on such a large scale. As a Muslim I'm also very excited about Vegetarianism and Veganism catching on, allowing more choice on menus, and removing the stigma of having an alternative diet.
R: What an incredible experience!! Your passion is inspiring! I hope that the US will start doing more about these issues as well.. Unfortunately, I don't think it will happen until Trump is out of office which of course is an entirely new and disappointing conversation to have.. I am also excited that Vegetarianism and Veganism is catching on more as I am a Vegan! I love the chance to try new foods in restaurants.
R: You also have quite a few empowering pieces! Would you call yourself a feminist?
F: I like to think of myself as an intersectional feminist. To me, it's important to consider all aspects of a human being when showing solidarity for equal rights, because we have something to learn from all the voices of minority groups.
R: Yes! Absolutely!
R: Human right issues have also been a topic in your writing, I would love to hear more about what inspired you to speak on these issues!
F: I never thought of my writing as speaking about human rights, so that it an interesting perspective to see. I'm quite fond of history these days, as a way of allowing me to relearn everything I was taught in school about roots and empire. Anita Anand, David Olusoga and Shashi Tharoor tell me things about the past that I never knew before, and those recollections help me to reshape how I see society today.
R: How have your personal experiences shaped your poetry?
F: Esther Perel says that "the quality of our relationships determines the quality of our lives" and I absolutely agree. I have been lucky/privileged enough to have fallen very hard in love, and also fallen very hard out of love. It was traumatic. And poetry was essential to the healing process.
R: What does writing bring to you? An escape? Healing? A sense of joy and happiness?
F: Sometimes writing is merely an expression of my emotions, and so it can be healing or joyful. Other times, I feel like another voice has taken over, and it's not in my control. Where possible, I like to listen to the voice, let it say what it has to say, and then look over at all the subliminal messages beneath.
R: What are some of your passions outside of writing/poetry?
F: I love to read (good old fashioned books, not that Kindle machine thing), and to visit nature whenever I can. I love tea, and any ritual or ceremony involving tea. I love spoiling my friends whenever I can, and cheering them on in all their life pursuits. 
R: Same!! I do own a kindle but I still prefer reading real books… Spoiling friends is such a beautiful thing! I love that! Sounds like anyone would be lucky to call you a friend!
R: Any tips for new writers?
F: There will be naysayers. There will be people and systems who discourage you and want you to do other things. It's okay to lose confidence in yourself sometimes, because you're not expected to be able to block the naysayers out all the time. Your confidence will return. Look for the muses in your life and let them inspire you.
R: This is brilliant. I agree completely.
R: What you think about the Instagram Writing/Poetry community? How did you get started on Instagram?
F: I'm grateful that we have more platforms for writers and artists, and that we don't necessarily have to go through gatekeepers anymore to have our work seen and recognized. I started on instagram about seven years ago as way to distract myself, and happily stumbled upon a thriving poetry community.
R: Do you believe in writer's block? – If yes, what would you say is the best way to work through writer's block?
F: I do, sometimes that also feels like another voice in my head, and it covers all my senses in white noise so that I can't do anything! I keep a journal, mainly for mindfulness and my mental health, I find this a useful tool to lean on when going through writer's block.
R: Favorite book?
F: Angela Carter's The Bloody Chamber and other short stories
R: Favorite author?
F: Zen Cho
R: A book that made you cry?
F: Deathless by Catherynne Valente. It didn't make me cry but I threw it at the wall with invisible tears streaming down my face.
R: Ha! I'm going to have to buy this book now!
R: What is your mission?
F: To dismantle old systems that serve only the majority and the rich, by inspiring others to be their own kind of mighty, passionate, disruptive selves.
Thank you so much Farrah for working with me on this interview, I adore your page and I'm so happy that I came across it! If you guys would like to follow Farrah on Instagram, (and I hope you do!) you can find her here! To end this lovely interview, here is another long form poem written by Farrah!